Last updated 7th September 2022
Diocesan Bible Challenge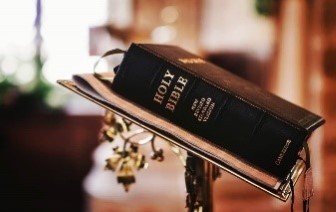 At the heart of Vision 2026 lies the call for Christians to be first and foremost disciples of Jesus Christ.
That entails, in part, a deeper commitment than attendance at services of public worship, a more generous giving of time, talents and money in promoting the Gospel and growing God's Kingdom, and a better knowledge of the Scriptures; God's revelation of who He is, what He has done and what He requires.
Back in 2019 we introduced the 'Bible Challenge', encouraging us to learn key verses of Scripture, to create a kind of 'internal treasure store' of the promises and command of God.
This was as part of our stated aim to have an ongoing 'focus on discipleship' ... seeking to create 'whole-life disciples', living out their faith every day'.
A 'focus on discipleship' should be a constant in our daily walk with Christ so this challenge continues - and is now in its fourth year. It also continues to feature regularly as part of our 'Blackburn Prayers' (see below for more).
It is a key part of our current work as a Diocese to develop 'whole-life disciples' – which includes encouraging better knowledge of the Bible – an initiative supported by a YouTube video, featuring people of all ages and backgrounds from across Lancashire, and first shown at the Diocesan Conference that was held in September 2018.
At the Primary Visitations of Churchwardens in 2019, the Bible Challenge was launched with a new booklet, entitled 'Knowing The Scriptures Better'. The booklet is suitable for a wide age range and people at all stages of the discipleship journey.
'Knowing The Scriptures Better' is a focused six week study booklet allowing you to consider the Bible more deeply, with memory verses to learn, and space for your notes as you pray and talk to God.
Some copies of the booklet may still be available from the Diocesan Offices - see the end of this article for order details.
There is also a Bishop's Bible Challenge 'memory verse' at the top of the 'Blackburn Prayers' prayer diary for each day.
You can also sign up for a Daily Prayer email. Also see below for how to engage with Blackburn Prayers and the Daily Prayer email.
Memory verses are chosen each year for each of three Vision 2026 themes of making disciples, being witnesses and growing leaders; 36 verses in all across the 12 months; all featuring in Blackburn Prayers.
We commend the memory verses; the booklet and the prayer diary to the Diocese as a way of growing as disciples of Jesus Christ.
---
There are three ways to access Blackburn Prayers and the Bible verses:
Sign up to receive Blackburn Prayers as a daily email to your inbox each day here.
Access the monthly prayers here
Ask for the list to be sent to you before the start of each month by emailing karen.ashcroft@blackburn.anglican.org
Ronnie Semley; created 2019, updated further in 2020, 2021 and most recently August 2022
---