Last updated 9th August 2017
Blackburn Diocese Cursillo
Anglican Cursillo is a movement of the Church providing a method by which Christians are empowered to grow through prayer, study and action and enabled to share God's love with everyone
Cursillo is a movement within the church which supports, inspires and empowers committed Christians, lay and ordained, to develop and use the gifts that God has given them in a community of discipleship.
Within a Christian community, Cursillo leadership is shared between laity and clergy.Members meet regularly at parish, deanery, diocesan and national level to review their commitment to study, action and prayer and to support and encourage one another in their Christian lives
Blackburn Cursillo have produced a leaflet showing how Cursillo complements Vision 2026
A three day weekend presents the core experience of Cursillo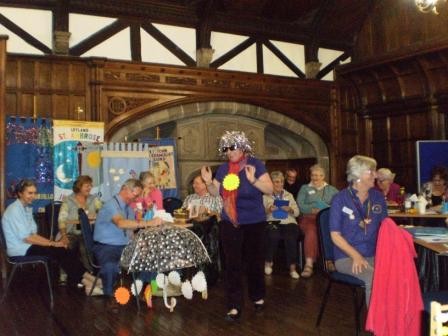 The weekends, usually held at Whalley Abbey, begin on Thursday evening, ending on the following Sunday afternoon, and provide, what is for many, a life changing experience through which God inspires, renews and challenges.
Away from the everyday pressures of life the pilgrims and team form a Christian community, learning, praying, sharing, singing and living together. In the course of three days the team of lay people and Spiritual Advisers give a series of talks focusing on the mission concepts of prayer, study and action
A Cursillo weekend is not so much a spiritual retreat as a fun filled experience of loving Christian community where every individual is cared for. There is no fasting or much time for solitude but much opportunity for worship and prayer
"Fourth Day" - the rest of your life
After these three days the new "Cursillistas" go into the Fourth Day to continue their Christian journey together. They join together in a small Group "Reunion" and meet regularly for mutual support and encouragement. This, together with the meetings of the wider Cursillo community, underscores and supports apostolic action, providing a structure for a lifetime's experience of Christian love and service. Friendship, laughter and fun are a big part of all Cursillo activities
Must I go on a Weekend to join Cursillo?
No! While the Weekend is designed to be the core experience of the movement, some people are more comfortable to discover the support and encouragement that Cursillo offers through small groups.
For more information - click on the following links/logos:
Blackburn Cursillo Lay Director -
Mrs Louisa McFarlane
155 Golden Hill Lane, Leyland PR25 3XJ
Tel: 01772 451526
email: laydirector@blackburncursillo.org

---