Last updated 25th September 2020
Digital innovation for the Bishop's Harvest Appeal 2020
Bishop Julian has launched his annual Harvest Appeal, which this year is supporting Tearfund and Friends of the Holy Land ... while the appeal also has an online giving option for the first time.
The Friends of the Holy Land is a charity working in the West Bank, Gaza Strip and in Israel and aims to support Christian communities there which often find themselves living in very difficult circumstances.
Tearfund is a global charity which seeks to work with local churches and local people to find solutions to poverty and injustice.
To donate online to this year's appeal follow this link.
Any money raised will go into their relief fund, which is currently being used to respond to issues caused by the Coronavirus pandemic.
Watch a video of the Bishop talking about this year's appeal ...
For much more information about the two beneficiaries of this year's appeal this leaflet is also available to read and download. Please share it in your parishes, eg via email; by posting a local version of the leaflet to your website or by printing local copies.
To move straight to online donation information, click here. The address for cheque donations is at the end of this article.
Bishop Jill also spoke about the Appeal on BBC Radio Lancashire recently (listen from 1h 54m 50s).
The appeal has been running for many years. Last year the total raised was £23,789.11.
Despite the obvious current restrictions of lockdown, Bishop Julian hopes the donations will continue to come in at their usual levels for the latest appeal – particularly as people can now give online.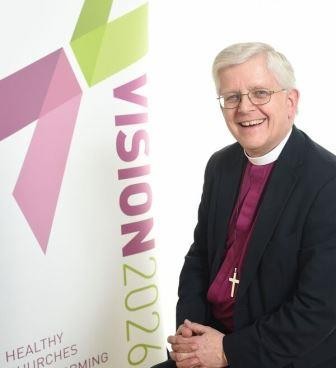 This year marks the first time that online giving has been an option for the Harvest Appeal; although donations by cheque can still be made. Online giving is really easy and straightforward – it also makes it easier to encourage people outside of our schools and churches to donate to these very important causes … just share a link with them!
Speaking as the appeal launched, Bishop Julian said: "I have always enjoyed seeing the various exciting and creative ways people have responded to this appeal and this year will be no different I am sure!
"We know that the coronavirus pandemic has brought new and acute problems, particularly in places where poverty is already an issue. So, I am delighted the charities chosen will work towards the relief of some of the hardship caused by the virus, supporting the most vulnerable.
"This year our schools will be raising money in support of Tearfund and our churches will be able to choose to support either Tearfund or the Friends of the Holy Land."
Bishop Julian added: "Please pray about the level of your support for the Appeal, which is a helpful reminder of the needs of those much less fortunate than ourselves. Out of our thankfulness may there be generosity, even in the uncertain and unsettling times of the coronavirus pandemic."
To donate to this year's appeal follow this link and select the charity you wish to support. If you are a taxpayer, you can also make a Gift Aid declaration at the same time as giving online. Or you may wish to use the QR code.
Alternatively, you can still make cheques payable to Blackburn Board of Finance Limited (Bishop's Harvest Appeal) and send to Mila Farnhill, Blackburn Diocesan Board of Finance, Diocesan Offices, Clayton House, Walker Office Park, Blackburn, Lancashire, BB1 2QE. Please indicate which charity you wish to support when sending your cheque.
---