Last updated 7th September 2022
The See Magazine - cancellation and archive
Closure of The See
IMPORTANT MESSAGE: After many years of publication we no longer produce The See magazine as a Diocese.
For a full explanation of why this has happened see below or click here to go straight to it.
The news was first communicated to parishes in a letter sent by Bishop Julian (relevant excerpt below) to all clergy, inc PTO; Bishop's Council and Diocesan Synod members; churchwardens; treasurers; LLMs and DBF and DBE employees.
There was also a story in the regular Parish Update ebulletin of February 10 linking to this page for more information.
---
Thank you to all contributors
As The See draws to a close, we would like to say a huge THANK YOU to everyone who has contributed in any way to the magazine over the years - we are very grateful.
Continuing to submit events for promotion
A further important message at this time for all PEOPLE AND PLACES contributors ...
After each edition of The See magazine was compiled, all events contributed to People and Places were also, always, transferred to the Events section of the Diocesan website for further promotion; as well as being forwarded to local media as short filler pieces.
We want to continue to help you promote your events. So, if you were a regular contributor of forthcoming events to the PEOPLE AND PLACES section of The See (and you want to continue to have your events feature on the Events section of the website) please send the details to Karen Ashcroft at karen.ashcroft@blackburn.anglican.org and we will ensure they appear there.
Please make your contributions about 75-100 words in length and contribute the words in an email or as an attached Word file. You can also include pdfs of promotional posters and/or images and logos associated with the event.
Please note, we cannot take words for your event straight from pdfs only however. Often the wording on a poster is not complete sentences and pdfs can't always be accessed for editing anyway. Hence the request for information to be supplied as already outlined for ease of engagement and to ensure we can speedily add it to the website. Thank you.
---
Further background to the closure of The See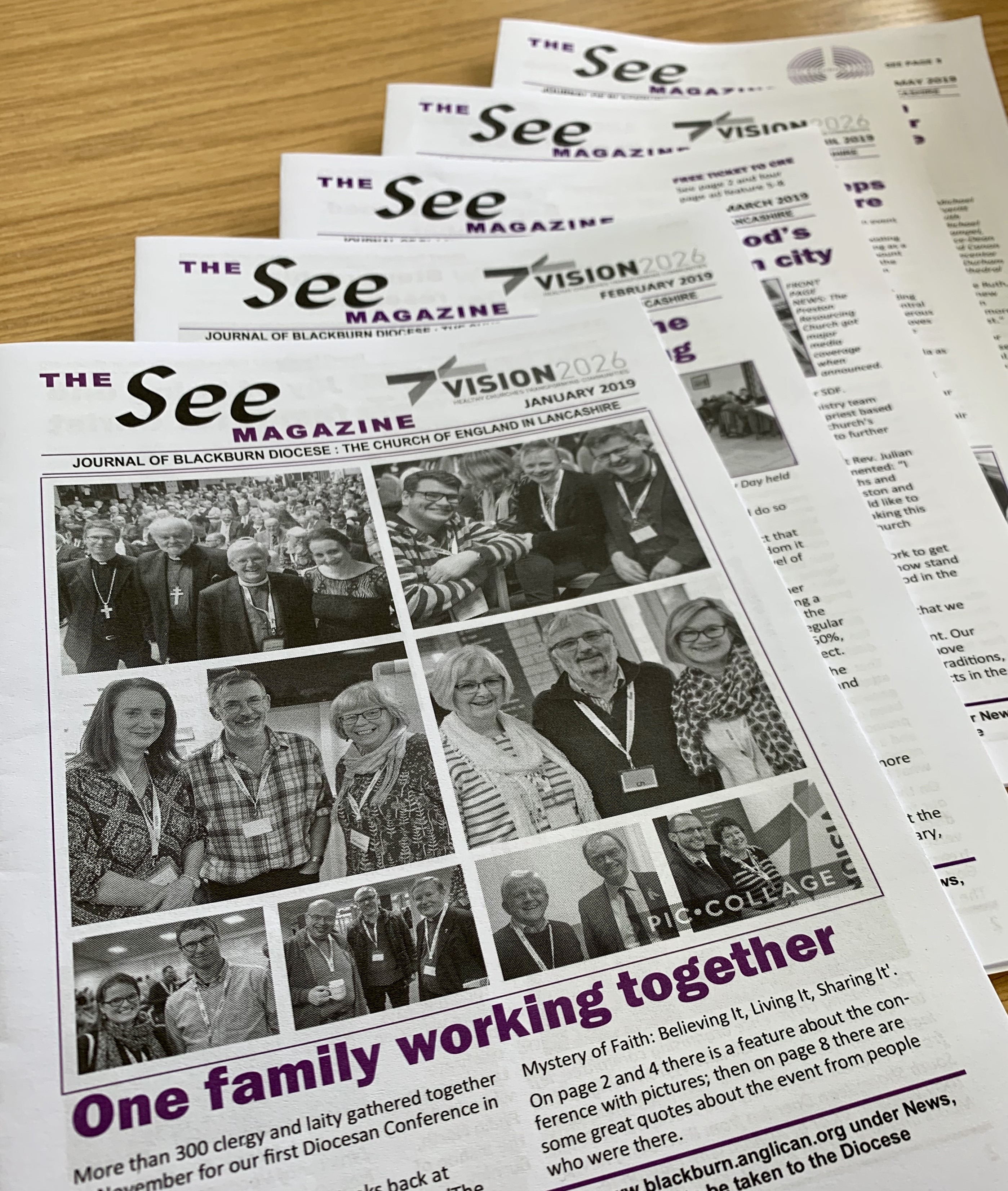 In his letter of February 5, Bishop Julian wrote to parishes saying ...
As we know, this pandemic has hastened the demise of some things which we used to do and the diocese has not been exempt from this.
I wanted to share with you all that The See Magazine will no longer be published.
This is for a number of reasons, including diminished uptake and increasing cost to the diocese. Attempts to increase advertising revenue were sadly unsuccessful.
The Parish Update will now be sent out fortnightly and will contain many of the news and interest stories which you will have been used to in The See Magazine. This will be sent directly to inboxes fortnightly and will carry advice on how to use the material in Parish Update itself and also the diocesan website to best populate your local communications and magazines.
We remain grateful to Ronnie Semley (Diocesan Communications Manager) for enabling good communication internally and externally.
More about the decision to close The See magazine
Following Bishop Julian's letter, Ronnie now writes further about the background to the end of The See magazine for those who want more information ...
Since March 2020 and the start of the pandemic we had suspended production of The See magazine. Meanwhile, before the pandemic began and prior to the first lockdown, we had identified during 2019 that there would be an income shortfall in 2020.
Whilst a large majority of parishes were still taking the magazine and circulation was healthy compared to other similar publications, there had been some decline in recent years in orders for printed copies. This reflected a general downward trend in demand for printed publications as more and more people engaged with the internet. At the same time printing costs were also on the rise across the print industry.
To mitigate these issues, in 2019 the Diocese joined an 'advertising consortium' featuring a number of other Dioceses and served by a Christian advertising company.
Being able to 'block book' for multiple dioceses the advertising company was confident of securing the income we required locally to bridge any shortfall in 2020 and in future years.
Sadly the advent of the pandemic has led us down a different path, impacting in several ways:
With continued ongoing uncertainty we have been unable to distribute the magazine effectively.
Print-based publications generally have suffered large losses of advertising revenue since the start of the pandemic for obvious reasons.
Allied to this, all advertising companies have seen potential income streams drying up.
Since the start of lockdown some parishes have understandably requested a reduction of their numbers of copies of The See to save money (should The See return to publication). These order reductions further reduced the likely 'per copy' income we would receive if The See was to return; creating a (predicted) larger shortfall.
Meanwhile, printing costs still continue to rise.
This 'perfect storm' of issues has led to us, regretfully, taking the very difficult decision to bring The See magazine to an end. Taking this action, we join a growing list of other Dioceses confronted with many of the same problems and making the same decision.
The Diocese thanks the staff at Sharon Press in Bolton for all their hard work over the years printing and distributing The See magazine. We hope to continue to work with them in other ways.
Bishop Julian will also be writing to the team at Sharon Press to thank them. Further thanks also go to ANYONE from our parishes who has contributed to the magazine in any way over the years. Your contributions have been important and valuable in sustaining The See. And thanks to Karen Ashcroft who has provided sterling administrative support to The See each month and will continue to do the same for Parish Update and for other communications work (more about Parish Update below).
If you haven't already done so, please inform people in your parish about the end of The See and the reasons for it, via your usual channels. Please include parish magazine editor if you have a magazine (and especially if your own magazine usually includes The See within its pages as many do).
In taking this decision we are fully aware that, as a printed publication, The See was a useful communication tool for reaching people who are not on the internet.
So, we want to emphasise at this time, parishes are free to use and adapt ALL the regularly updated articles and information appearing on the Diocesan website in local communications (such as your own parish magazine if you have one) to continue to keep people informed. Click here for more on doing this.
Anything featured our Parish Update ebulletin (which appears every two weeks on a Wednesday) plus related linked-to material, is also freely available to adapt and use. The same applies to any information appearing in the Coronavirus Task Group briefings that are sent to parishes, for as long as they continue to be issued.
Please note, final invoices for The See editions that did appear in 2020 (January-March) were issued to parishes towards the end of 2020. If you have not received an invoice and you know you should have got one, please email mila.farnhill@blackburn.anglican.org to enquire.
---
Archive editions and requesting archive material
This page about The See magazine on our website will remain live for the time being in relation to The See archive, but also to continue to ensure people are aware of the cancellation of The See and the reasons for it.
Below you will find a recent archive of The See editions from 2017-2020 and we have a fuller archive of The See stretching back much further.
There are digital copies of all editions in pdf format from January 2013 to April 2020 (the last completed edition). We also have digital copies in Word format of most stories that appeared in the magazine between the above dates.
We also have printed copies for the entire period above. There are a limited number of extra copies available so we may be able to provide a physical copy on occasion to anyone who requests it. Otherwise we can provide a scanned version of the article or edition requested if required.
Further back we have printed copies available for each month (one edition of each) so we could provide a scan of any requested article on request. The physical copies will always available to browse and view in person on request (after the pandemic and lockdown is over of course).
For any requests in relation to the above archive material, please email Karen Ashcrift, on karen.ashcroft@blackburn.anglican.org in the first instance.
---
Digital Archive of The See 2017-2020
Below is a digital archive for The See - which was the monthly magazine for The Church of England in Lancashire and ran for many decades. ('The See' is another name for a Diocese.)
Edited by Diocesan Communications Manager Ronnie Semley, it was distributed to nearly all of our parish churches across Lancashire.
It provided a monthly digest of the latest news affecting and involving our parishes; including updates on our collective work towards Vision 2026
THE SEE MAGAZINE ONLINE ARCHIVE (MOST RECENT YEAR FIRST)
---
Online material from Diocesan websites in printed publications
As mentioned previously, in cancelling The See we are fully aware it was a useful communication tool for reaching people who are not on the internet.
We want to emphasise at this time that parishes are free to use and adapt ALL the regularly updated articles and information appearing on the Diocesan website and in Parish Update and other ebulletins
You can use the articles in local communications (such as your own parish magazine if you have one) to continue to keep people informed.
Using website articles and how to do it ...
On the Diocesan website (the one you are on now) all news stories and features plus any of the text about upcoming events from the events section; plus any other material on other pages of the Diocesan website is available for inclusion in local printed publications, in whole or in part.
The same applies to articles featured on the Diocesan Board of Education website.
You can copy and paste articles and use the original words in your own communications (printed or digital) across your parish.
IMPORTANT NOTE: Please try to use articles in whole where possible. If not possible please edit with care, keeping the key points originally made. Also, please do not change or amend any facts or add opinion (yours or anyone else in your parish) into a original piece you have taken from the website(s). If an opinion is to be added on any matter for discussion, please keep it separate and original to your own parish and don't include it within something you have downloaded from the Diocesan sites.
Ideally please attribute the source of the article from the news pages (namely www.blackburn.anglican.org) and, where named, the author or originator of the piece if possible (if featured, then it will usually be found at the start or the end).
You can also use the text of all stories that appear in Parish Update and our other ebulletins: Safeguarding Matters; Lay Ministry News and Money Matters and ebulletins sent from the Diocesan Board of Education.
Our ebulletins consist of a number of shorter pieces than you might ordinarily find on the website. Sometimes these shorter pieces are 'stand alone' and contain all the information you need to engage; but often they will be summary pieces or introductory articles and will link to either this website or other websites for more information.
If the piece you want to use for say, your parish magazine, links to a page on the Diocesan website then you could use the Parish Update article as an introduction and then add the greater detail from the website underneath or next to the shorter piece.
If you want to use an article and it links to a website that is an outside source (not from the Diocese) then if it is The Church of England national website you should be fine; but if it is another organisation please check with them first as a courtesy before copying and pasting articles into local printed publications.
Hopefully the above is self explantory. Applying common sense to what you use and how you engage with it at all times should suffice; but if you have any queries re the above, please email communicate@blackburn.anglican.org and we will get back to you as soon as we can.
Weekly Sermon and other 'ready-to-go' information and articles
As well as material on the website pages, you can also download a whole range of artiles to print off 'as is' for distribution to people who are not online.
A good example is the Weekly Sermon. This is written each week by one of the clergy and laity from around the Diocese - the Bishops and Archdeacons and the Dean also take a turn. We have a rota we keep up to date and noone on the rota writes for the page more than twice a year.
You could download and print any of the sermons to add to information packs you may be circulating to parishioners not online; or why not print the latest one off and insert it into your parish magazine; either in its standard 'ready-to-go' A4 format or A4 folded to A5 if your magazine is smaller?
You will also find other articles added regularly to other parts of the Diocesan website to illustrate themes being discussed or for engagement in other ways. Here are just a few recent examples (all available to use now) ...

Giving Devotions. A series of devotions for each day of the Call to Pray and Give; with opportunities to daily 'pause'; 'rejoice', 'reflect' and 'ask'.
Also as part of the Call to Pray and Give initiative, we offered some reflections on giving ... 'Sacrificial Giving'reflection (pdf) by Revd. Dr Chris Dingwall-Jones, Curate at Fleetwood St Peter and St David. Word version: Sacrificial Giving. Also we have another reflection on 'The Gift of Giving' (pdf) by Rev. Dr Tom Woolford, Vicar of New Longton. Word version The Gift of Giving.
Pictures
If you want to use a picture as well as words from the website or Parish Update, please ALWAYS check first by emailing communicate@blackburn.anglican.org
The good news is that, with the exception immediately below, pictures for news and feature stories that appear with articles on our website(s) will also usually be able to be used in local parish communications (printed or online). That's because any taken or provided 'for the Diocese' will include permission for parish communications by default.
Pictures involving children and young people: These pictures are always taken and provided with special permissions and on many occasions may not be useable in other publications without jumping through other hoops to make arrangements. You can still check however and so, as with general pics above, if you want to use a picture in a parish publication originating on the Diocesan website or Board of Education websites and it features children or young people, check first by emailing communicate@blackburn.anglican.org
When you email communicate@ state the picture you are interested in; the context in which you are using it (where it is to appear) and when you need it by. If we can supply it, we will try to provide you with the hi-res original if possible and will email back with a reason if it is not possible.
Any hi-res pictures provided in this way are for the sole purpose of using in the parish publications you state; nothing else. We hope you understand they must not be circulated locally on email and/or kept for private use.
Please also do not use pictures taken randomly from elsewhere on the web to illustrate your story - particularly any story directly related to the Diocese - as their use could be misconstrued and you may not have copyright of the image anyway.
A brilliant copyright free photosite for pictures we can recommend is www.unsplash.com
Ronnie Semley (last updated February 2021)
---