Last updated 14th March 2023
The Vine Community - homepage
A flexible framework for the Christian life
The Vine Community is a simple and flexible framework for living out a Christian life; sometimes called a 'rule of life'.
We want as many as possible to sign up and pledge to be part of The Vine Community.
There was a service of commitment in Blackburn Cathedral in June 2022 but there will be other events beyond then as this is a long-term commitment. Click here to pledge now.
Whatever your situation, there are three questions to help you explore what faith means to you already, and how to make the most of it.
This isn't necessarily about doing something 'extra', but about giving yourself the space to be the person God has made, and to grow in your relationship with Him, with an active, practical response to the teachings of Jesus Christ.
See below under the heading 'More about The Vine Community' and 'Joining The Vine Community' for further information.
---
The Vine Community Prayer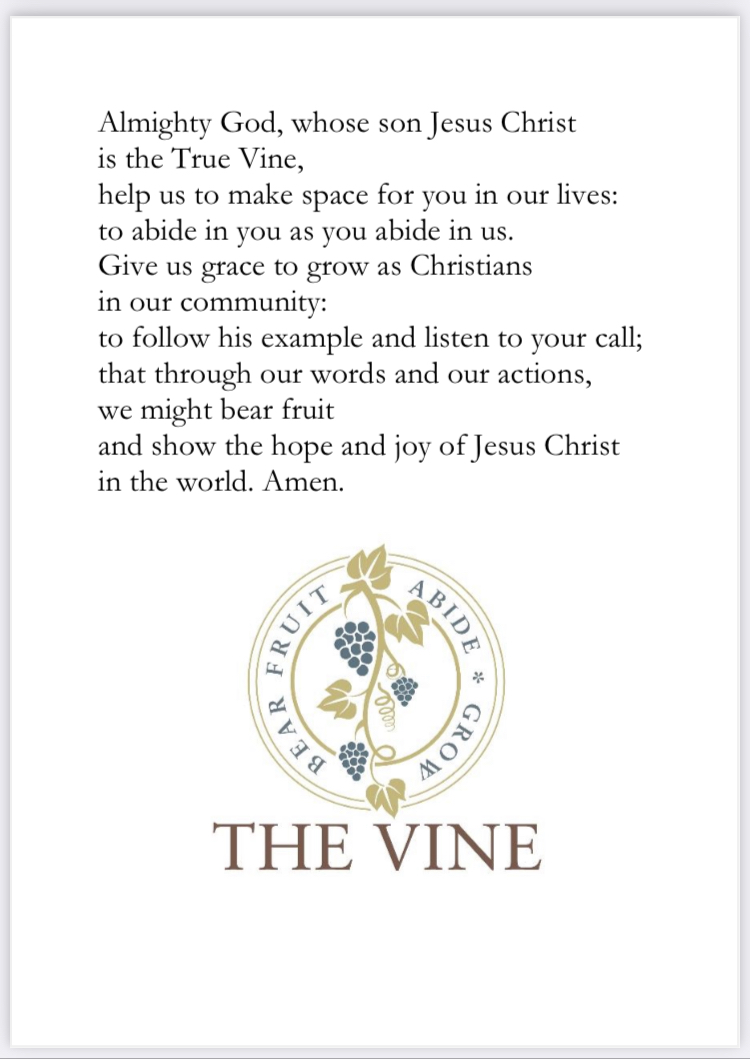 Almighty God, whose son Jesus Christ is the True Vine, help us to make space for you in our lives: to abide in you as you abide in us.
Give us grace to grow as Christians in our community: to follow his example and listen to your call; that through our words and our actions, we might bear fruit and show the hope and joy of Jesus Christ in the world.
Amen
---
Video introductions to The Vine Community
At the recent Festival of Faith in Daily Life we recorded a special introduction video for The Vine Community.
The video features Bishop Julian, Archdeacon Mark, Rev. Canon Dr Rowena Pailing, the Canon Missioner from Blackburn Cathedral and Sarah Earnshaw, Diocesan Children's Work Adviser.
Watch the video here:
In addition to the above video a the recent Clergy Study Mornings held across the Diocese, Rev. Canon Dr Rowena Pailing, the Canon Missioner from Blackburn Cathedral also introduced The Vine Community in a special presentation.
Rowena is overseeing the launch of The Vine Community and this is a video of her presentation. There is more information, expanding on what Rowena says in the video, further down this Community 'homepage'.
In the video Rowena says: "The Vine Community is based on three questions and is entirely accessible and applicable across any context; any different church tradition and also across all ages.
"The resources we will point to will grow as we continue to develop the work for The Vine Community and - very importantly - we will point to resources that already exist in most cases; this is not about reinventing the wheel! Again, these will be for all ages including children, young people and families."
Watch the video from the clergy study morning by clicking below ...
---
Keeping in touch with the latest news with Parish Update
The best way to keep updated about the latest news related to The Vine Community - resources; events and more - is to read our Parish Update ebulletin.
All Parish clergy, LLMs, ALMs and parish officers should receive it automatically but if you don't then ANYONE can sign up for it. Go to this page and follow the link to the sign-up page.
---
Message and invite from Bishop Julian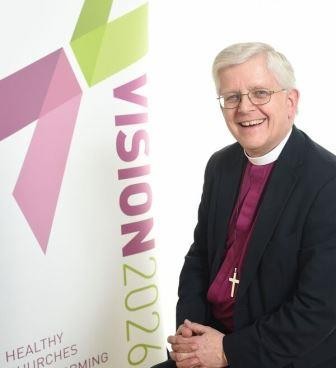 In mid-May Bishop Julian wrote the following message to all clergy in our parishes ...
May I draw your attention to the recently launched Vine Community, a dispersed group of
people committed to making space for God in their lives, for growth in their discipleship, for
witness to others of the hope and joy in knowing Jesus Christ.
We already have people signed up to the Vine Community from across the Diocese. I
would like to encourage further as many lay and ordained people as possible to register by emailing vinecommunity@blackburncathedral.co.uk
Please do encourage members of your congregation to get involved and consider joining the Vine Community yourself.
The Vine Community is a simple and flexible framework for living out a Christian life. It
challenges us to set our own personal targets to help us to grow and develop in faith and be
confident witnesses, disciples and leaders in our own local settings.
These should be both realistic and stretching, in response to the questions:
• How can I make space for God?
• How can I keep growing as a Christian?
• How can I show the hope and joy of Jesus Christ in the world?
There is a wide range of resources available to support those who wish to take part, and a
programme of events comprising two quiet days; two general gatherings for mutual support
and growth as a 'community' which will be held in different places across the Diocese and a
service of commitment at the Cathedral in June each year.
Part of the principle of the Vine Community is that it should be accessible to all, so there is no charge for any of the events.
There are also different resources available for individual adults and for families and children.
I invite you to the first Vine Community service of commitment to be held at Blackburn
Cathedral at 4pm on Sunday 19th June 202. Please let us know if you are coming by emailing
vinecommunity@blackburncathedral.co.uk
---
The Vine Community Rule, Prayer and Pledge cards
As Rowena says in the video above, as part of the work to support The Vine Community 'we will point to resources that already exist in most cases; this is not about reinventing the wheel'!
We did feel it was important however to produce some helpful Rule, Prayer and Pledge cards.
They can be downloaded via the pdf links in the next section and we have a limited print run of the cards, printed A6 size in packs of 7; each pack bound together by a sustainable, environmentally-friendly paper band, rather than wrapped in plastic.
Packs will be distributed at the launch event on March 19 and at other key Diocesan events in the coming months. If you wish to order some for your parish please email The Vine Community email (next paragraph).
Please only order the numbers of packs you need and know will be used, by asking locally first. And please also consider downloading cards from this page in the first instance to help us remain as environmentally-friendly as possible.
---
Making your pledge plus downloadable cards
Those wanting to make the pledge to be part of The Vine Community are encouraged to sign the pledge card within the pack and keep it as a reminder
Please also take one step further; makingdisciples@blackburn.anglican.org is the email to send your pledge confirmation to alongside contact details.
In accordance with data protection rules we will use the contact information you supply to let you know about future events related to The Vine Community only – including a planned service of commitment in June.
Downloadable prayer and pledge cards
---
More about the Vine Community
The Vine Community is a way to abide, grow and bear fruit in Christ.
It is a simple and flexible framework for living out a Christian life. Whatever your situation, there are three questions to help you explore what faith means to you already, and how to make the most of it.
This isn't necessarily about doing something 'extra', but about giving yourself the space to be the person God has made, and to grow in your relationship with him, with an active, practical response to the teachings of Jesus Christ.
Jesus uses the image of the vine in John 15.1-17 to describe exactly this life with God (abiding); development both individually and as a Christian community (growing); and active witness and service in the world (bearing fruit).
In John 15 Jesus describes himself as the vine and us as the branches. He describes the Father as the gardener, who prunes and tends the branches so that they can bear fruit which lasts.
In one sense every Christian is part of the vine, but this Vine Community is made up of those who choose to make a specific commitment, to abide, to grow and bear fruit.
It is possible to be part of the Vine Community as an individual adult, as a young person, or as a family with children: there are resources suitable for different ages and situations available across the Diocesan website and on the Diocesan Board of Education's website and we will continue to flag up key materials on the 'homepage' you are on now for The Vine Community.
---
Joining the Vine Community
The Vine Community is designed for anyone who worships in The Church of England's Diocese of Blackburn.
If you are a Christian in another place, or of another denomination, you may still find some of the resources helpful.
All Christians are part of the vine described in John 15. If you are exploring the Christian faith for the first time, you can find more information at https://www.churchofengland.org/ about what Christians believe, baptism, prayer, Holy Communion and ways to live a life of faith.
As part of your commitment, please complete the pledge card which you can download above (or get a hard copy at The Vine Community launch or at other diocesan events) and keep it to remind yourself of your aims and aspirations.
You do not have to send us details of the commitments you have made, as those are personal to you, but if it helps you to share them with us we would love to hear from you.
We will post details shortly here of how you register as part of The Vine Community and submit your pledge card (if you wish to do so).
---
Using John 15
The image of the vine is used by Jesus in John 15. It follows on from a passage about the Holy Spirit.
At John 14.26 Jesus explains that the Father will send the Advocate, the Holy Spirit, who 'will teach you everything, and remind you of all that I have said to you.'
So although the image of the Vine focuses on the relationship between the Father and the Son, we should also read it in the context of the work of the Spirit.
You may find it helpful to read a Biblical commentary on John 15 which explores the themes of abiding, growth and bearing fruit before you reflect on the words of Jesus which are at its heart.
There are many commentaries available, but for something more specific on the vine or its themes you could try Andrew Murray's, The True Vine (a classic book from a Dutch Reformed perspective) and Ben Quash, Abiding (the Archbishop of Canterbury's Lent book in 2013).
---
Engaging with John 15 v1-17 ... Sunday by Sunday
Sunday is a day to spend time with the questions of the vine, and to reflect on the words of Jesus which are at the heart of it.
You are encouraged to read part of John 15 each Sunday in addition to other passages from the Bible, and you might find it helpful to follow this pattern each month:
Week 1: John 15.1-5
Week 2: John 15.6-11
Week 3: John 15.12-17
Reflect on bearing fruit.
Week 4: John 15.1-17
Listen to what God is saying to you.
---
Prayer and Bible resources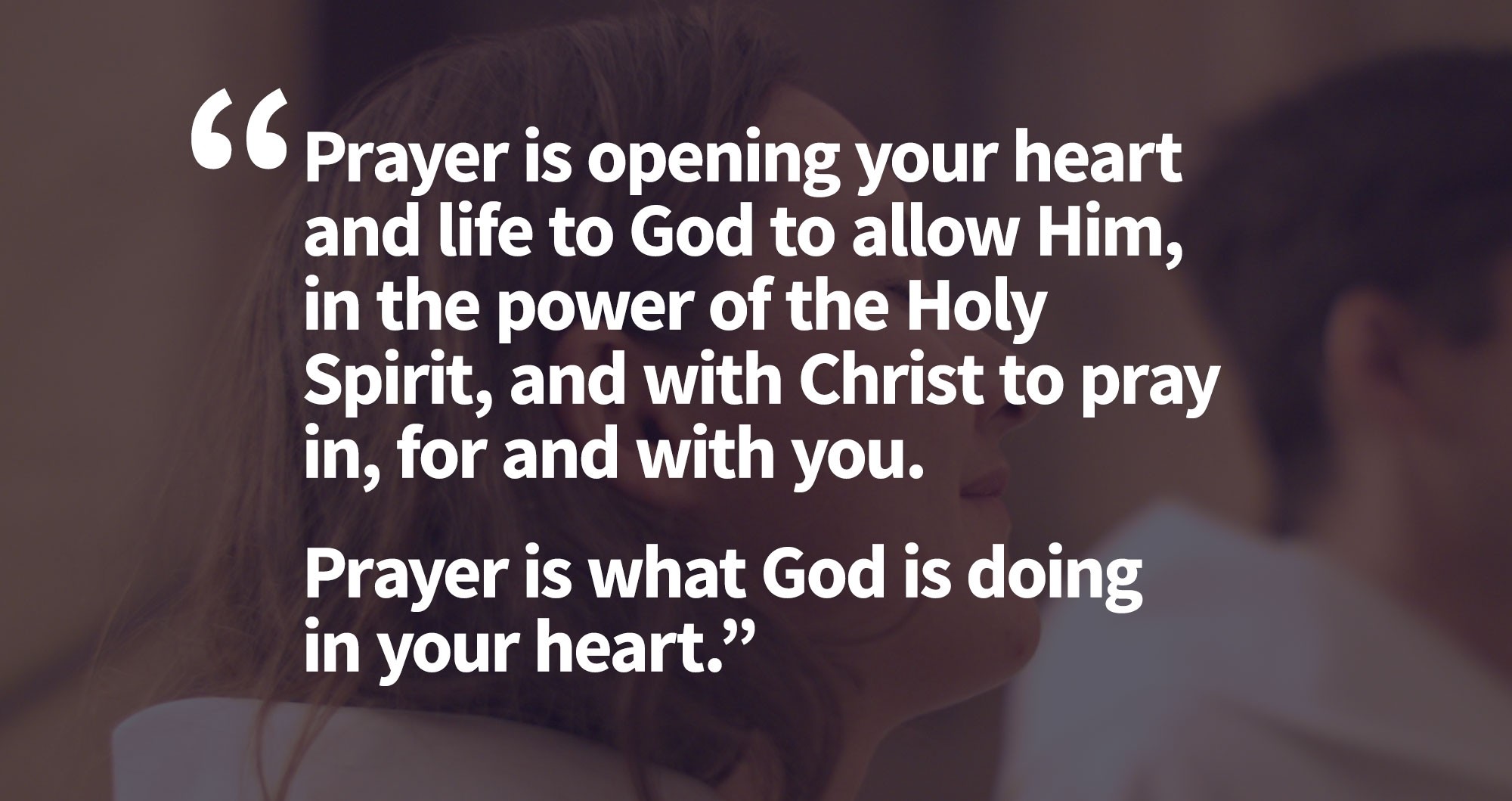 There are plenty of resources to help you pray and to read the Bible. For ease of access, many are now available either online or as apps.
Some offer prayers you can use, recorded acts of worship where you can join in, or simply a bible passage and a thought for each day.
THE VINE COMMUNITY PRAYER CARDS: Print and download
The Vine Community prayer cards (click here) are intended to be put wherever you will see them regularly, as a reminder of your commitment to abide, grow and bear fruit. That might be in your Bible, by your bed, in the kitchen, or somewhere else.
DAILY PRAYER: Website and app
Daily Prayer is available free as an app on your usual app provider or on the Church of England Website here and gives complete services for Morning, Evening and Night Prayer in both contemporary (Common Worship) and traditional (Book of Common Prayer) forms.
LECTIO 365: Devotional resource on app
Lectio 365 available here is a devotional resource that helps you pray the Bible every day and is inspired by Lectio Divina, a way of meditating on the Bible that has been used by Christians for centuries. Written by leaders from the 24-7 Prayer movement, and produced in partnership with CWR, this resource helps you engage with Scripture to inspire prayer.
BIOY: Available on your app store
With Bible In One Year each day you will receive a Psalm or Proverbs reading, a New Testament reading and an Old Testament reading. It also provides daily audio and written commentary to walk you through each day's reading, to provide fresh understanding of the texts.
SACRED SPACE: Website and app
Sacred Space (available here) is inspired by the spirituality of Saint Ignatius of Loyola, and gives a thought for the day, a daily Bible passage and some guided reflections.
UNIVERSALIS: Web and app
Universalis is based on the Catholic Liturgy of Hours, with seven different prayer times each day, following the pattern set out in Psalm 119.164: 'Seven times a day do I praise you'.
BIBLE PODLETS
Bible Podlets from our own Diocesan Board of Education (and available here) is a Bible study and discussion podcast for primary aged children to do together with adults. Each episode has games/activities, an engaging Bible reading in the form of a news story and deep discussion with places to pause and talk together about the topic. Discussion notes are available to download from the Resources Area of the Diocesan website.
STUDY BOOKS
If you would prefer a hard copy resource, Christian bookshops hold a large stock of Bible reading material, from daily reading notes to study books on particular themes or books of the Bible.
CHURCH OF ENGLAND NATIONAL WEBSITE
BLACKBURN PRAYERS
Our own Blackburn Prayers are issued monthly and are also available as a Daily Prayer email. This is a calendar with points for daily prayer which many churches and individuals across the Diocese are already using. Why not join them. Find out more and sign up here.
JOURNALING
If you want to use a journal to record your thoughts, points for prayer, or Bible verses, all you need is a small notebook which will slip into your pocket, and a pen or pencil. Alternatively, there are many journaling apps available, if you prefer to record your thoughts electronically. These include:
... and downloadable templates such as
---
Quiet days, retreats and spiritual direction
Both Blackburn Cathedral (website here) and our new Centre for Christian Discipleship and Prayer at Whalley Abbey (website here) hold quiet days and retreats.
See also https://www.retreats.org.uk/ for Christian retreats in other parts of the country.
At Whalley Abbey (pictured) the House is set in the stunning grounds and ruins of the 14th Century medieval Cistercian Abbey.
Tranquillity is key ... and yet you are within 15 minutes drive of the motorway network; while Whalley village also has a rail station with mainline connections to Preston and onwards to all parts of the country, including Glasgow, Manchester, Birmingham and London.
Book onto one of the retreats, quiet days or supper clubs, stay overnight in one of our beautiful 17 en-suite bedrooms, stay in the cottage by the river, book the Abbey for your meetings, your own parish or group retreats, or come and join in with our daily cycle of prayer and spend time here to allow for that encounter with God that He is calling you to.
Prayer at the Abbey takes place at the following times ...
morning prayer 8:30am, midday prayer at 12.00, Mondays in the chapel
midday prayer at noon on Tuesdays in the grounds (also streamed live on Facebook)
... and for Eucharist, 9:30am Fridays in the chapel
---
Study courses
Most local churches offer study courses. Any current Diocesan courses will be posted on this website Events calendar.
---
Vocations
Through your engagement with The Vine Community, you may feel that you are called to lay or ordained ministry.
We are very keen to encourage this as a Diocese. In the first instance you should discuss this with your local clergy. More information about Vocations can be found here for ordained ministry; here for licensed lay ministry and here for authorised lay ministry.
---
Practical ideas for daily praying; some inspiration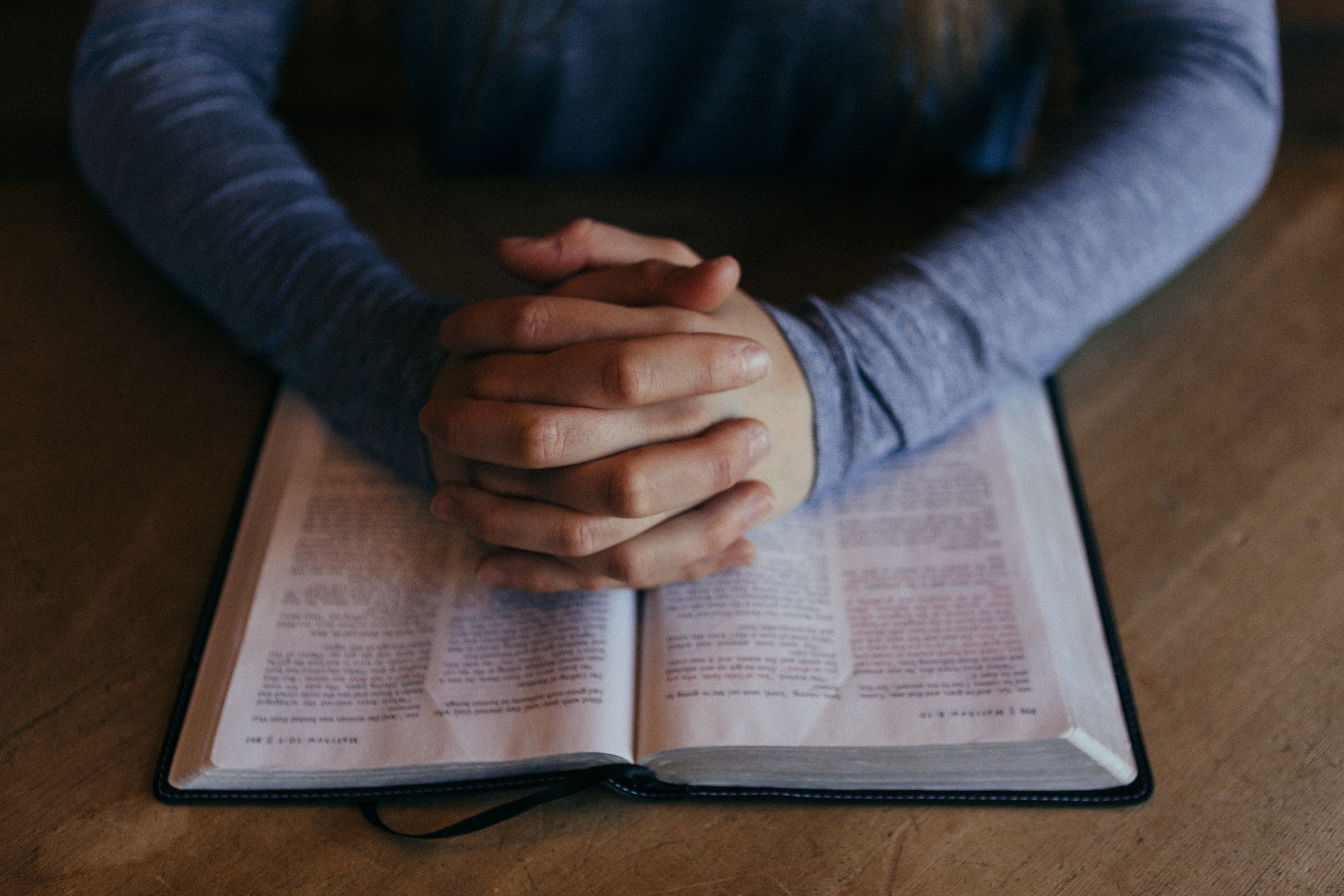 Here are some real life examples of how people have responded to the questions.
'First thing in the morning, I have five minutes for God.'
'I read Bible verses while boiling the kettle.'
'I think it's really important to attend church, especially to recharge energy levels.'
'I will always try to talk to someone I don't know: someone in church, or one of my neighbours.'
'I have a regular time and place in my house when I pray for half an hour. But when the grandchildren are staying, the time changes, and it becomes half an hour before bed.'
'We do our best, but it's important to have permission to fail, especially if we're trying something new.'
'You can build prayer into what you are doing naturally: walking the dog, going to the shops or travelling on the bus. But I wear headphones so I'm not distracted!'
'A healthy spirituality looks something like this: time with God every day, regular church and Eucharist attendance, outward service.'
More ideas to involve children and young people
Under the Prayer Resources section above you will find initial resources for children and young people.
The Diocesan Board of Education is preparing more information linking to fantastic resources ... many of them existing materials perfect for use in this context.
Check back soon for more and keep an eye on our Parish Update ebulletin as we will trail their arrival via that communications channel too.
Ronnie Semley, March 2022
---