Producing a Vision Action Plan
Churches have been 'doing discipleship, mission and leadership' for years, but most have found that the work involved is not easy! For a start, what is meant by 'mission'? How does a busy church decide on priorities? How does a traditional church prepare its people for doing new things? How does a church council agree and manage the many actions that may ensue?
The Mission Action Planning process (now called Vision Action Planning in this Diocese) came about to answer these questions, and to provide a tried and tested process to help churches listen to God and create a vision that is God's vision for their church.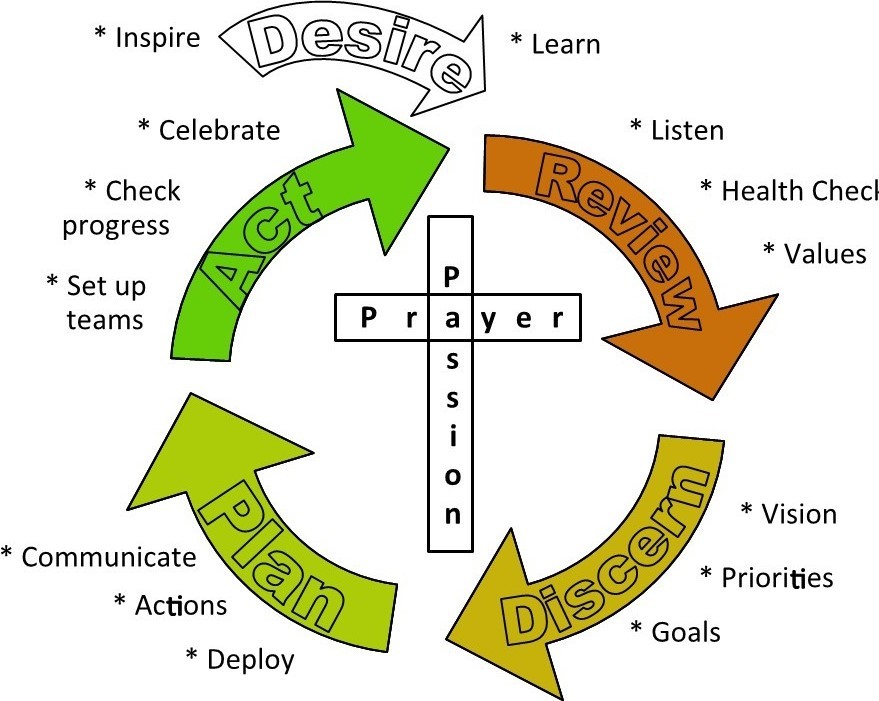 The method used to produce a VAP (the VAP process) is described briefly below to help a church's leadership as they engage in the difficult work of deciding on their discipleship, mission and leadership priorities and actions. There is a template here.that might help you record your VAP.
There are four phases of the process: Review, Discern, Plan and Act. which are illustrated in the diagram on the right and which can be downloaded as an image here. The cross of Christ is at the centre to remind us that all our work should focus on Jesus Christ with a passion for carrying out his commandments, and that prayer should accompany all the phases.
"Desire": before you start the process
Antoine de Saint-Exupéry wrote "If you want to build a ship, don't summon people to buy wood, prepare tools, distribute jobs, and organise the work, rather teach people to yearn for the wide, boundless ocean".
In the same way, if you want your church to engage effectively in making disciples, being witnesses and growing leaders, don't get a group together immediately to start work on each M/VAP phase in turn. Instead, teach people to yearn to respond to Jesus Christ's teachings about mission.
We recommend all parishes wait until at least two thirds of the church council really understand the five 'Marks of Mission' and really want to engage. We hear many stories of where a church group has produced a VAP but then has neglected the Act stage to the point where nothing changes. We even know of one church that framed the VAP document – to look at and admire; but no effective actions were taken.
1. Stage 1 - "Review": Knowing your situation and opportunities before God
In the Review phase of the VAP process, a church aims to discern God's mission plan for the communities they serve by prayerfully looking at and understanding the situation that a church finds itself in including the location, the people, the activities that the church is engaged in and what activities could be started.
The first task is to try to see the church's current situation as God would see it: listing those things that are good and working well as well as those which are not so good. To do this it is useful to devise ways to listen in three directions:-

listening up - to God,
listening in – to church members and
listening out – to the local communities and networks that the church serves.

The second task is to do a Health Check. Most churches write down a summary of strengths, weaknesses, opportunities and threats – known as a SWOT summary. Sometimes, churches use additional methods to assess their health – for example the method described in the "Healthy Church survey" – part of the Vision 2026 Study Course
The third task of the review section is to reflect on what is the values of the church:W

Why does this church exist?
What particular purposes does it serve?
How does it relate to the community?
What does it believe in?
These values are summarised in a "Purpose statement" – which captures a sense of these - why this church is here. This statement should be limited to one sentence.
Example Purpose Statement: - "Christ Church is here to share the love of Jesus Christ with all ages in this community"
2. Stage 2 - "Discern": your future calling and priorities
Whilst the Review phase is concerned with the present time, the Discern phase is all about the future. People may have many ideas about what the church could be doing, but resources are finite and choices have to be made.
The first step, which is also the most important, is to describe the vision of what the church is being called to become five years from now and will become the Vision Statement. You want this to be God's vision for your church, so prayer and listening are essential. You also want this to be an attainable vision – not an impossible dream. A good vision statement should be limited to one sentence, and shared and taken on board by all the people. It should inspire everyone to work together towards the future.
Example Vision Statement: - "St Anne's will become a church community where all members are growing in faith and using their special gifts to spread Jesus' saving love."
The second step in this phase is to work out the priorities to achieve the vision. This is best done in two stages – first consider the long term (five year) priorities, and then break this down into the priorities for the next year. In this way, you will be able to review progress every year, and to identify the next priorities. It may be tempting to take on too much, so be cautious. It is a good idea to restrict the number of discrete strategic priorities to three for an average church, and less where resources are limited. This is also a good time to consider what activities could be stopped or trimmed – especially if these are not central to the church vision.
The third step is to write a goal statement for each of the next-year priorities, which defines specifically 'what' has to be achieved by 'when', and how you will monitor progress.
3. Stage 3 - "Plan": what, who and when
During the planning phase, each priority can be taken in turn and fleshed out into the main actions that are necessary to reach the goal.
The first step is to identify the key actions for each goal (this is called deployment). For example, if a key goal is to work more on Discipleship, a key action might be "To introduce the Pilgrim course within the next twelve months".
The second step is to define the "What", "Who" and "When" for each action. For the above Pilgrim example this list could be:-
| | | |
| --- | --- | --- |
| What | Who | When |
| Publicise the course | HJ | From May |
| Raise funding and purchase materials | AB | By end of June |
| Identify and train group leaders | Minister | By end of September |
| Start the groups | Leaders | October |
The third step is to produce the MAP summary report and communicate it widely. It should contain the main details of each of the work done in the MAP process phases, but it should also be fairly brief and easy to read - two sides of A4 is ideal. A template is available here. The report should be widely communicated, with copies made available for all church members and key members of the local community.
4. Stage 4 - "Act": on the plans
This is where the practical work gets done. Often, the owner of each action invites others to form a team – to share the work and support each other. It is vital that there are regular reviews of progress – perhaps at PCC meetings – to ensure that the people involved are supported and encouraged in their work. It may be found necessary to re-visit the plans in the light of work done so far. For completed actions, give thanks and celebrate!
5. Stage 5 - Keep going
As indicated by the arrows on the chart at the top of the page, the VAP process is not linear but is cyclical and included within the process is a cycle to reflect, review and revise the VAP. We recommend a three year cycle, but each church is encouraged to choose its own period.
On the second and subsequent cycles, the Review phase will include a review of what has been learned about the Vision work and the VAP process itself - what has worked well and not so well, so that skills, learning points and experience can be acknowledged. During these repeat cycles, the health check is updated and the PCC reviews it's Purpose and Vision statements.
Usually and crucially, the mission priorities will be updated to reflect the current opportunities and position.
The VAP process is described in more detail in 'How to do Mission Action Planning' by Mark Ireland and Mike Chew ISBN 13: 9780281075645 – which contains many examples and tips (some of which are taken from Diocese of Blackburn parishes).