Last updated 7th June 2023
War Remembrance
The 100th anniversaries of World War One (which took place from 1914-1918) provide an opportunity to remember the immense human sacrifice made by people from across Lancashire.
Prayers for Remembrance (particularly Remembrance Day)
Almighty and eternal God,
from whose love in Christ we cannot be parted,
either by death or life:
hear our prayers and thanksgivings
for all whom we remember this day;
fulfil in them the purpose of your love;
and bring us all, with them, to your eternal joy;
through Jesus Christ our Lord. Amen.
Other remembrance prayers can be found on the Church of England website while, also on the Church of England website, there is a page of liturgical resources for use in relation to 100th anniversary commemorations events for World War 1: 1914/1918 to 2014/2018.
---
'Brothers in Arms': a moving production of courage, sacrifice and faith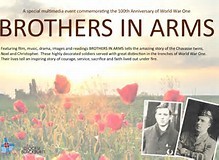 A 90 minute multi-media event, 'Brothers in Arms' tells the amazing story of the Chavasse twins, Noel and Christopher, highly decorated soldiers who served with great distinction in WW1.
Their lives tell an inspiring story of courage, service, sacrifice and faith lived out under fire.
Brothers in Arms is a joint initative between the Diocese and The Methodist Church in Lancashire. Churches can book the production via Blackburn Diocese (see below).
The BBC's NorthWest Tonight featured the production on its evening bulletin.
In 2018 the cast will also be taking Brothers in Arms to the Edinburgh Festival for a week of shows following a similar visit to the Festival in 2017.
Brothers in Arms is a rolling presentation and there is bound to be a production happening near you soon.
To offer to host a production; to book places on an existing production, or just for more details, please contact siobhan.trickett@blackburn.anglican.org or call her on 01254 503272.
---