Last updated 24th January 2022
Welcome from Bishop Julian
Vision 2026 encourages church growth in our Diocese through the priorities of:
Making disciples of Jesus Christ
Being witnesses to Jesus Christ
Growing leaders for Jesus Christ and
Inspiring children, young people and schools
---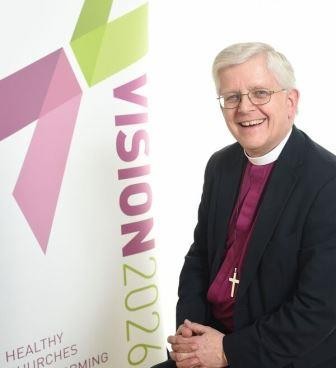 As a Diocese we are working together to implement our 'Vision 2026: Healthy Churches Transforming Communities', writes Bishop Julian.
Our Diocese, originally part of the Manchester Diocese, was created in 1926.
So for nearly nine decades prayer and worship has been offered throughout the region, not only on Sundays but every day. Throughout this time we have been showing the people of Lancashire that God loves them, not just now but for ever.
The Church, of course, is the people of God, and every week some 34,000 gather in our churches to worship Him and to be equipped to serve Him in their communities and places of work and recreation. Every week we welcome some who are enquiring about the Christian Faith.
In recent times the number of regular Sunday worshippers in our churches has sadly declined. We have also seen a considerable impact in a huge number of ways since the advent of the pandemic of course.
But, rather than trying to manage a shrinking church institution, combined with the impact of the pandemic; with God's blessing our Vision 2026 'Healthy Churches Transforming Communities' provides a message of hope and growth to our parishes.
Vision 2026 is not 'my' vision, it's 'our' vision; a vision behind which we can all gather to make a make a difference to the people of Lancashire. I pray that you may find something here that will help you in your response to the invitation of Jesus Christ to 'come, follow me'.
We have also recently updated our Vision 2026 strategy ...visit this page to read more about the refreshed Vision 2026 Implementation Plan for 2021-2024.
Visit this page for more about Missional and Financial Flourishing conversations arising from the new Implementation Plan and to enable our Vision.
And visit this page for a letter from the Bishop's Leadership Team about the process of 'Unlock' - unlocking from the pandemic and renewing our commitment to continued future growth - as well as an accompanying video.
---
Thank you for your interest and please now take a moment to browse the material about our vision for the Diocese - Healthy Churches Transforming Communities
Bishop Julian gives some insights on why and how to pray in a useful and informative article available by clicking here
Dispelling some myths - Six things that Vision 2026 is not. (Bishop Julian's input to the Catholic Evangelism Evening on 2 December 2015). Click here
---
When we first launched our Vision 2026 strategy in 2016 we produced a video to explain our approach. That video is still available to watch on our Diocesan YouTube channel and features people from parishes at the time of recording from across our Diocese.
The video was originally produced for and shown at a series of prayer evenings across the Diocese in autumn 2015 and was viewed by thousands of people at large events such as our Preston Guild Hall Vision evening in 2016.
Ronnie Semley, page last updated January 2022
---