Last updated 30th July 2019
What is Vision Action Planning and why would we want to use it?
A church Vision Action Plan (VAP) is a summary of its prioritised plans in response to the Diocesan Vision to 'make disciples, be witnesses and grow leaders'. The plan is tailored to the particular circumstances of the individual church and builds from the church's purpose and vision statements – its desired future.
The VAP is a living document, kept alive by regular reviews, and will be referred to frequently:
to build support for mission priorities,
to invite people to pray for these,
to encourage people to engage where help is needed
and to prepare people for changes that are planned.
It can often be helpful if someone from outside the parish helps with the Vision Action Planning Process, and a team of experienced volunteers (Vision Companions) are available to help you.
If you would value assistance from one of our Vision Companions or want to know more about using the Vision Action Planning process, please email Revd Canon Grant Ashton who leads the team of Vision Companions. Grant will be able to provide you with more information about how someone from the team can assist your church, parish or benefice.
There are further pages that might help you think about Vision Action Planning:
Some tools to help with Vision Action Planning can be found here
More detail about the stages in the Vision Action Planning Process are shown in the diagram below and can be found here
Some of the tools and outcomes for each phase are shown below:
VAP Phase

Tools for the phase

Outcomes for the phase

Desire

Commitment and Enthusiasm

Review

Triple Listening
Health check
Agreed values

Sense of purpose
Grasp of why we are here

Discern

PCC Away day?
Teaching/Preaching?
Home group courses?

Knowing where we are going
Vision
Priorities

Plan

Living Vision Action plan

Act

Celebrate
Check progress of teams

Encouragement
Stronger teams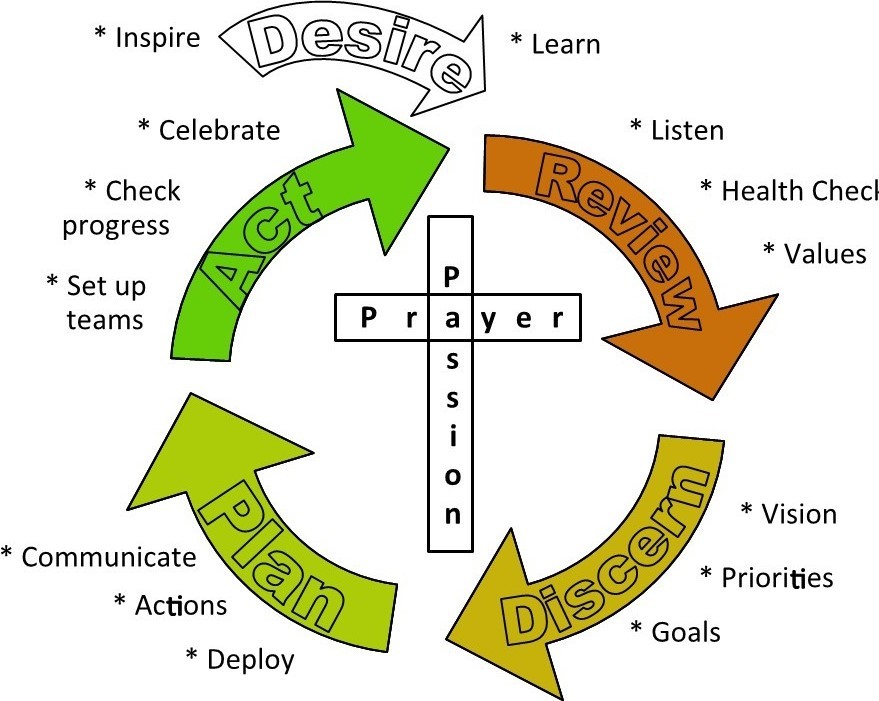 ---