Last updated 14th January 2021
Faculties
Changes to the On-line Faculty System
From the 1 April 2020, the Faculty rules that govern how churches manage their buildings, churchyards and contents has changed. This new legislation will see a change in how new applications submitted on the Online System from the 1 April onwards will be processed. For more information regarding the new changes, please click here.
The Allchurches Trust Limited – Owners of Ecclesiastical Insurance Group have made available to the Blackburn Diocesan Board of Finance Limited £35,000 (£1,000 per 35 churches) to assist and encourage churches to install a roof alarm system to protect, prevent and minimise the theft of lead on church roofs.
To apply for the £1,000 grant offer please complete the attached Application form
Temporary Minor Re-ordering Applications
Please see Guidance Notes on Temporary Minor Reordering
To start a new Temporary Minor Re-ordering application
Click here to go to the main page of the on line faculty system
Sign In
Click on the Applications tab
Click on Start a new TMRO Application
If you need any help with this please contact Christine Ellis, DAC Secretary 01254 503074
If your church has opened a new extension, completed a re-ordering scheme or undergone a major repair or conservation project, enter it for 2019 UK Church Architecture Awards!
A faculty granted by the consistory court of the Diocese is required before any alterations, additions or repairs are carried out to the fabric, fixtures or fittings of a church.
A faculty is also required for the introduction, repair or disposal (including sale) of any plate, pictures, ornaments or other moveable goods of a church. Any secular use of a church may need to be authorised by faculty. The faculty jurisdiction also applies to the churchyard so that a faculty is required for putting up a building or other structure on the churchyard, the introduction of a monument, the exhumation of human remains or the reservation of a grave space. Churchyard trees are also subject to the faculty jurisdiction.
However, certain matters can be undertaken without a faculty if they come within the national "Lists A and B" of works (please note List B matters require the Archdeacon's written permission). Another exception relates to monuments in churchyards which can be introduced with the permission of the minister provided that the monument complies with the diocesan churchyard regulations. If you are in any doubt about whether a particular proposal requires a faculty you should seek advice from the diocesan registry.
The Online Faculty System (OFS) is designed to process faculty applications for alterations, additions or repairs works that are determined by the diocesan chancellor, as well as applications for List B matters. It can also be used to record List A works.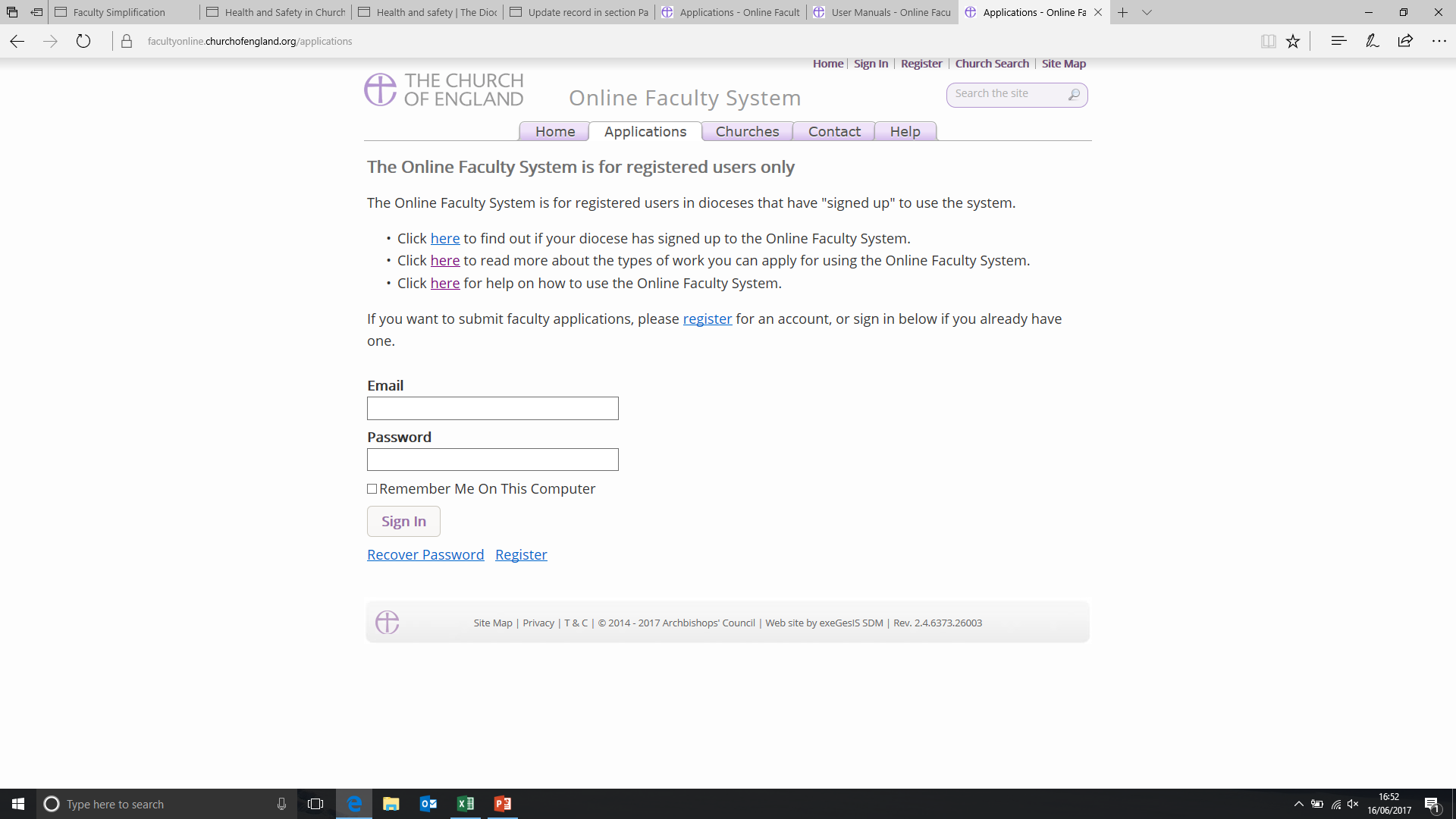 Assistance for Parishes using the Online Facuty System (OFS)
Letter to intending Applicant 2021
The faculty fee for 2021 is £305.40 inclusive of VAT
For advice on the faculty process and on-line system, please contact the DAC Secretary Christine.ellis@blackburn.anglican.org Tel 01254 503074
---