Last updated 25th August 2023
Vision 2026 and our focus on discipleship
What this page contains ...
Outline of our ongoing 'focus on discipleship' as part of Vision 2026
Overview of why we are focussing on discipleship, by Archdeacon Mark Ireland
Links to resources and events to support your discipleship work in parishes
---
A time to focus on making disciples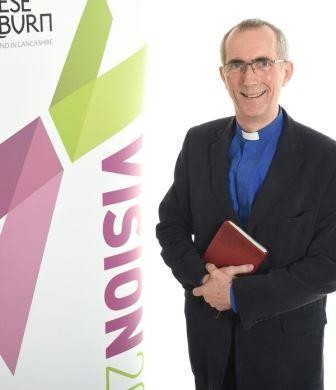 The Venerable Mark Ireland, Archdeacon of Blackburn, writes about the importance of discipleship ...
When Rowan Williams was asked about having a Decade of Evangelism in the 1990s, he described the idea as 'a necessary idiocy', like announcing 'a decade of breathing'.
In other words, evangelism isn't something you can just do for a decade and then forget about; rather, it should be as much a part of the life of a Christian as breathing.
Yet the Decade of Evangelism was necessary and important in helping the Church regain its essential missionary focus.
Much the same could be said about the idea of 'a focus on discipleship' which begins in 2019 and continues beyond that year.
Forming individuals as disciples for Jesus Christ is surely the primary calling of every local church, and so discipleship ought to be at the top of our agenda not just for a year but every year.
However, forming disciples is not something we are very good at. Traditional habits of personal Bible study and prayer get squeezed out in our busy lives.
Fewer people belong to small groups, and when we think about lay training too often we are equipping people to take on roles in church; rather than empowering them to live distinctively Christian lives from Monday to Saturday in their place of work, recreation or with family. And when churches are short of money this is often not a financial problem but rather it can be a sign of a deeper problem of discipleship.
As part of our focus on discipleship there are a number of resources and events to support you and to help members of your church to grow as disciples of Christ and discover their particular calling from God. These include:
A great video course on DVD designed to help small groups think about money and giving, in the context of the generosity, gift and grace of God. Resources available on our website and videos are also available on our YouTube channel. More details here.
A programme of retreats and quiet days at our Centre for Christian Discipleship and Prayer at Whalley Abbey, regularly continuing every month and designed to help individuals and groups take time with God in this 'blessed place' at the heart of the diocese. Search the events calendar on the Abbey website for more.
I invite you to join with me in praying that each of us will grow deeper in our relationship with Christ and discover afresh how we can make a difference for God in our daily lives.
Archdeacon Mark Ireland
Last updated August 2023, Ronnie Semley
---