Last updated 31st October 2021
Important information about our e-bulletins
The Parish Update ebulletin was suspended during the height of the pandemic due to resource issues but returned every two weeks in early 2021.
As of October 2021, important pandemic/Covid-19 messages will continue to feature in the Coronavirus Task Group briefings which are sent to all clergy and parish officers as required. The Task Group briefings can also be found here.
The rest of our ebulletins (see below) were also revived in early 2021.
If you don't receive an e-bulletin but want to get it, you can sign up to any of our email bulletins here.
---
Ebulletins overview; how the ebulletins work
There are several ebulletins produced at the Diocesan Offices for sending to parishes, with varying frequencies.
Most are quarterly and contain important information intended for very specific audiences (like 'Safeguarding Matters' which is sent to Clergy and Parish Safeguarding Officers only).
All the current ebulletins were redesigned and refreshed in 2019 to ensure consistency; creating a 'family' of ebulletins which are all clearly from and about the work of the Diocese.
All are now sent from the 'Mailchimp' ebulletin platform. (Previously some were sent from Mailchimp while others were circulated as simple pdfs or Word files.)
All now also come from the same Mailchimp account; which also allows for better management of all the information we circulate as well as the data that we manage.*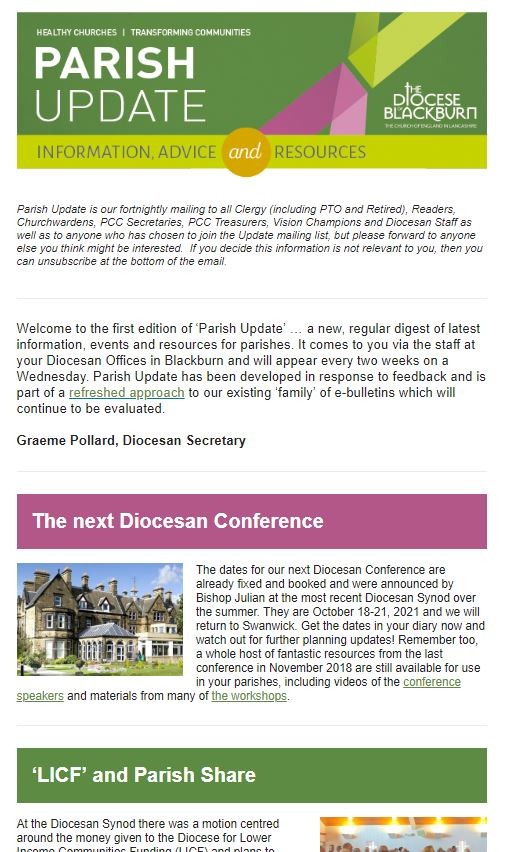 There is also a more coordinated approach to when in the 'calendar cycle' e-bulletins are distributed - making it much less likely two e-bulletins will arrive in inboxes in the same week for example.
The popular and very successful 'Parish Update' appears every two weeks. 'Parish Update' is the home for all information, advice and resources from Diocesan Officers to parishes.
Parish Update has also helped to cut down on general email traffic to parishes from the Diocesan Offices too. We will keep this under constant review.
There will always be the need to send emails direct to specific people in parishes of course and for all kinds of reasons, but 'Parish Update' gives us a regular method of circulating information for general consumption to parishes.
Diocesan Communications Manager, Ronnie Semley, who is a member of the Enablers Team at the Diocesan Offices, coordinates the content for Parish Update - working with the various office teams to ensure up to date information is provided.
Ronnie also coordinates the schedules for all other ebulletins although the work to produce those ebulletins takes place within the teams who send them initially.
---
Ebulletins: Titles, feedback and how to subscribe if you don't already receive our ebulletins
To summarise, the roster of e-bulletins we have are ...
For all Clergy and All Parish Officerholders

Parish Update; every two weeks

For bespoke audiences there are the following:

Safeguarding Matters: quarterly, for Clergy and Parish Safeguarding Officers
Money Matters: quarterly, for Clergy and Treasurers
Readers' News: quarterly
All of these ebulletins will continue to be monitored and kept under review. If you are on our Diocesan Contact Management System (CMS) you will receive the ebulletins above according to need.
You can unsubscribe if you choose to but we will only send information that is relevant to you and your parish so please think carefully first as you may be declining the opportunity to receive information and resources helpful to your parish in the future as well as the edition you are reading.
We will also dynamically adjust schedules as required. Further evaluation will continue take place through general feedback (email communicate@blackburn.anglican.org with your thoughts/ideas) and we will also use analytics data available to us through Mailchimp to develop them further in whatever way is needed.
If you don't receive an e-bulletin but want to get it, you can sign up to any of our email bulletins here.
As indicated above we are legally obliged to offer you an option to unsubscribe to our ebulletins. If you have received an ebulletin that isnt relevant to you we apologise. You can unsubscribe via the 'unsubscribe link' at the bottom of every ebulletin.
If you are not receiving an ebulletin but you want to receive it and have subscribed, it is possible the ebulletin has ended up in your junk folder; so please check that first. If you find it in your junk email folder, mark it as 'not junk'. Crucially you need to do this while the email is still actually in the junk folder (not after you have moved it to your inbox).
This is usually done by right clicking on the email and going to 'mark as not junk'. Next time an ebulletin is sent it should then automatically appear in your inbox.
If you are not receiving an ebulletin you think should be getting then the link above will allow you to subscribe.
Ronnie Semley; page created Aug 2019; revised November 2020, September and October 2021
---