Last updated 31st August 2023
Lighting up New Generations
We were delighted in 2021 to announce that the Church of England's Strategic Investment Board had awarded the Diocese of Blackburn £3.5m of strategic development funding (SDF) for our application entitled: Lighting up New Generations: Blackburn, Blackpool and across Lancashire. Nationally, it was the highest contribution in that year's round of funding.
The Lighting Up New Generations project focuses on planting two Resourcing Churches, one in Blackburn and one in Blackpool. These plants emerged out of the Preston Resourcing Parish (which itself has undergone revitalization following a successful 2018 SDF application overseen by Bishop Philip).
Blackburn, is one of the youngest towns in Britain and is also a place of innovation. Here the project offers the opportunity to innovate with a multi-generational Youth Resourcing Church at St Luke's which is located close to one of our vibrant Church of England Academies, St Wilfrid's.
Blackpool was founded as a health spa town. This offers the opportunity, at a time of significant civic investment, to grow a town centre Resourcing Church at St John's which will focus on life in all its fullness, in a location with national profile.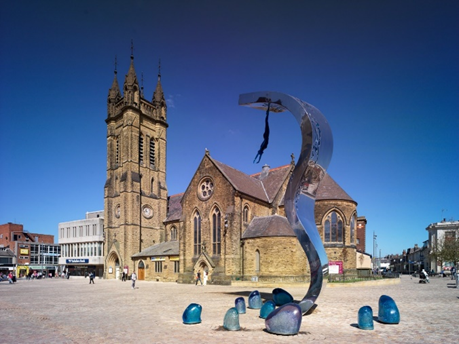 These Resource Churches are in areas of urban deprivation which offers both challenge and opportunity. They have a mandate to grow leaders, lay and ordained, to catalyse renewal of churches in Blackburn, down the East Lancs corridor; Blackpool and along the Fylde Coast.
Rev Jason Gardner, was licensed in July 2021 as St Luke's Resourcing Church Leader. Jason is originally from Lancashire and brings with him youth, evangelism and church planting expertise, particularly in multi-cultural areas.
Rev Andy Dykes, moved from Holy Trinity Brompton to be licensed in October 2021 as St John's Resourcing Church Leader. Andy is originally from just up the coast in Cumbria and has spent time in the North West pioneering planting of Christian communities in Carlisle and Liverpool. Andy is a keen drummer, worship leader, poet, videographer and graphic designer.
The project is also supported by Rachel Gardner as Youth Resourcing Lead at St Luke's. Rachel has a national profile and considerable expertise in youth work as well as being a conference speaker and author. The youth work at St Luke's aims to reach down the generations to enable parishes across Lancashire to flourish into healthy churches which transform communities.
When launching the project in 2021, Bishop Jill, sponsor of the Lighting Up New Generations project said: "In the Diocese of Blackburn, we are convinced of the importance of frontline parish ministry for reaching Lancashire with the gospel.
This project is just a small part of our wider Vision 2026 strategy to normalise the growth of churches by normalising church renewal and planting with 200 New Local Congregations and 10 Strategic Church Plants by 2026, across all traditions, demographics, locations.
It has been encouraging to work in partnership with the Church Commissioners Strategic Development Unit: their generous support is a testimony to this relationship. But the main investment needed is a visitation of the Holy Spirit on the people of Blackburn, Blackpool and Lancashire. We look to take this forward on our knees".
Alongside the generous funding from the SDF, we are also grateful for the financial contribution from the Benefact Trust, Duchy of Lancaster and Laing Trust towards some of the diocesan costs not covered by the SDF grant.
In the time since the project launched, St Luke's and St John's have had a huge impact across their local communities. Both churches have undergone significant re-ordering to make them fit for mission and are now looking to use the church spaces to reach out and support their neighbourhoods. Through regular running of Alpha courses, youth ministry in local schools and street engagement, we are seeing congregations growing. This in turn increases the capacity for volunteers to undertake for further ministry. Social transformation projects are enabling the church team to support those in their need and provide vital assistance and encouragement in the local communities.
Over the remaining years of the project, the teams will continue to build their mission within Blackburn and Blackpool. Through this, planting curates will be supported in their development so that they can, in time, take that knowledge and experience to plant into other churches across the Diocese.
Last updated August 2023, Chrissie Oakley
---