Last updated 5th August 2022
Lyrics and lunch reaches out to those living with dementia and their carers
An outreach activity started at St Thomas', Lancaster is now expanding to other areas and shows us how to befriend both those living with dementia and their carers.
Jeanette Main from St Thomas' Church in Lancaster designed Lyrics and Lunch sessions to support those living with dementia and their carers. It has been scientifically proven that music and singing can offer support to those with dementia so a fun singing time, lots of laughter, a very short dementia friendly service and a nutritious lunch has proved to be a good combination. The original group, which meets at St Chad's Church Hall in Lancaster, get together twice a month to sing old familiar songs as well as being introduced to some new ones. They have a lot of fun together and there is also the chance to have a go at playing an instrument.
Over lunch those attending the session can share friendship and support and it is a great opportunity for both those with dementia, as well as those who are caring for them, to spend time together. Lyrics and Lunch is now a registered charity and is branching out to form a network of groups across the country. There are several groups in Blackburn Diocese; at St Chad's Skerton, St Thomas Lancaster, St John's Sandylands, Christ Church Thornton and St Oswald's Preesall, and a few further afield. Lyrics and Lunch even received some additional publicity when the group at St John's Sandylands, Morecambe featured on Channel 5 news during dementia awareness week.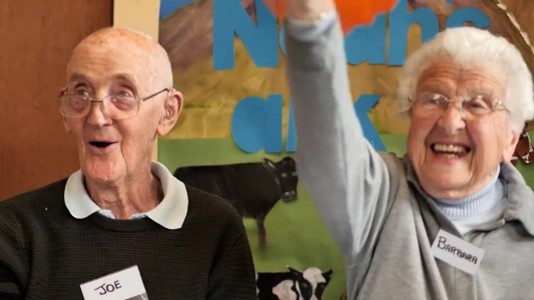 Lyrics and Lunch demonstrates Vision 2026 Being Witnesses. Anyone who is interested in starting up a Lyrics and Lunch group within their local area can obtain further information from the Lyrics and Lunch website www.lyricsandlunch.org or email contact@lyricsandlunch.org.
Links to short videos:
Channel 5 news piece on Lyrics and Lunch
---