3rd July 2017
New Deacons and Priests begin work across Lancashire
A teaching assistant; school chaplain; medical statistician; construction worker; a Sister who is a member of the Religious Order of the Companions of Martha and Mary; an academic and policewoman - these are just some of the former or current jobs of the latest cohort of new priests and deacons ordained at the weekend by The Church of England in Lancashire.
The group of 18 new Deacons and Priests for The Church of England in Lancashire were ordained in two services on Saturday at Blackburn Cathedral, following several days on retreat at the Diocesan Retreat and Conference Centre at Whalley Abbey.
This is three more candidates than in 2016. There are 12 Deacons and six Priests, many under 40.
Watch ordination videos - first the interviews with two Deacons and two Priests plus Rev. Dr Rosalyn Murphy who led the ordinands' retreat ...
Now a video featuring our three Diocesan Bishops - Bishop Julian, Bishop Geoff and Bishop Philip - speaking about the importance of this time in the church calendar ...
You can also listen to coverage of the ordinations on BBC Radio Lancashire (available until July30) listen at 01h 11m 25s and 02h 53m 50s.
The 20% local increase in numbers is being reflected elsewhere with a 14% increase in candidate numbers reported across the whole country. For more on how this increase is being achieved see here on the Church of England national website.
Candidates will serve across Lancashire in Blackburn, Preston, Anchorsholme, Lower Darwen, Over Darwen, Lancaster, St Annes, Burnley, Accrington, Hornby with Claughton and Whittington with Arkholme and Gressingham, Nelson, Padiham, Staining, Withnell, Heapey, Freckleton, Hoddleston, Warton, Brierfield and Salesbury.
Candidates home towns include Preston, Lancaster, Clitheroe, Accrington, Burnley, Chorley, Tunstall near Carnforth, Nelson, Padiham, Brinscall, Warton, Freckleton, Accrington in Lancashire and further afield they also come from Stoke on Trent, Salisbury, Cambridge, Oxford, Marske-by-the-Sea near Middlesbrough and Vancouver.
View pictures from the ordinands' retreat at Whalley Abbey and their ordination services in a special album on the Diocesan Flickr site.
The 2017 cohort of 'ordinands' (as the candidates are known) range in age from 30 to 69, with 10 of the 18 under 40. Meanwhile 10 candidates are male and eight are female.
The youngest and oldest candidates are all deacons: Christopher Anderton (of St. Bartholomew's and The Church of the Saviour, Blackburn) and Alice Cole (of St James, Lower Darwen, St James, Over Darwen and St Paul's Hoddlesden) who are both 30 and Stephen Large (of St Cuthbert's Burnley with St Luke's Brierfield) who is 68.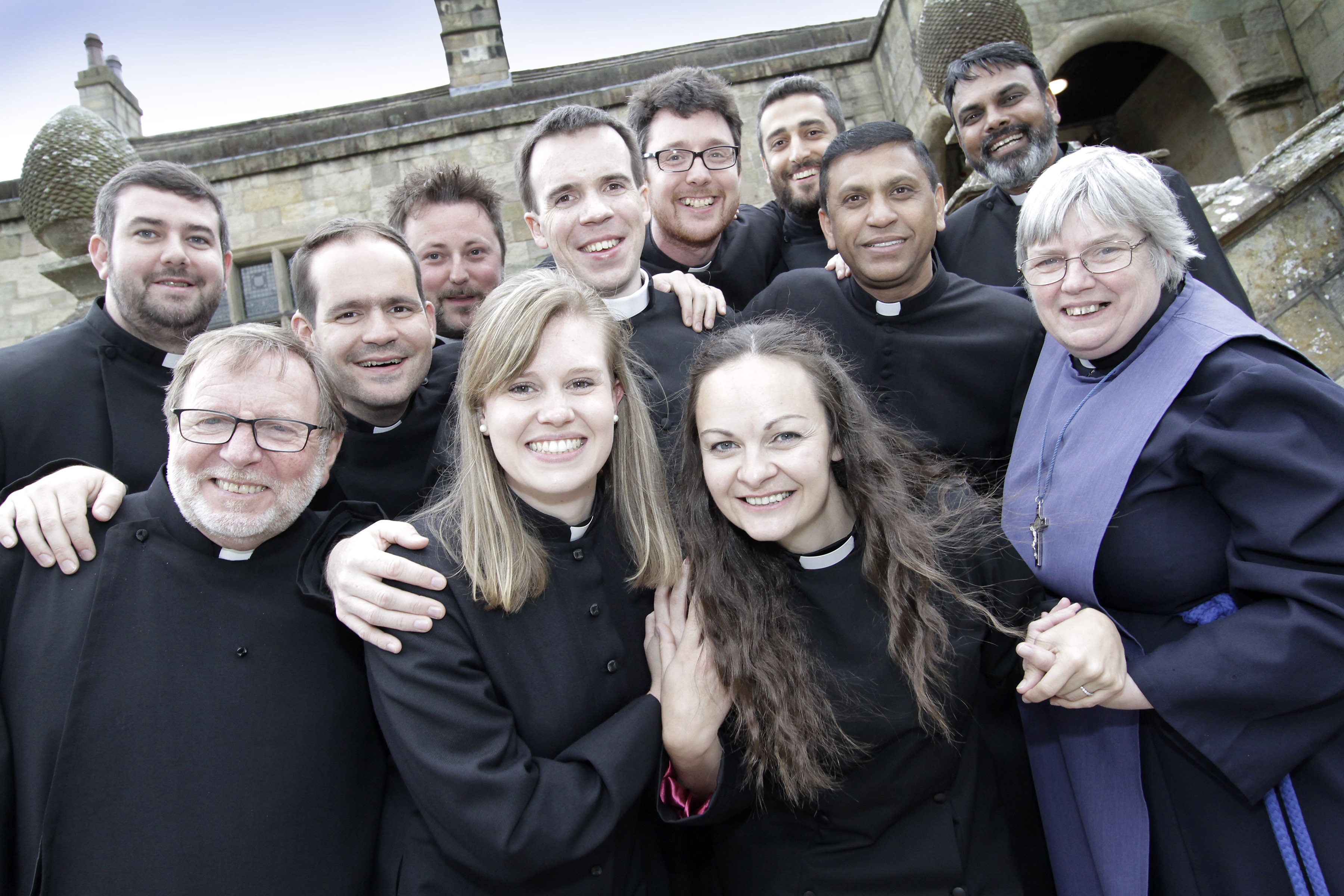 All the ordinands have willingly responded to God's call on their lives and are ready and eager to get to work in their parishes to help fulfil our 'Vision 2026: 'Healthy Churches Transforming Communities'.
Alice Cole, 30, is originally from Stoke-on-Trent and will serve at St James, Lower Darwen, St James, Over Darwen and St Paul's Hoddlesden. Talking about her call to serve she said: "I was involved in a project at my church which involved visiting other churches. While visiting one of the churches I felt that God was preparing me for more than the project.
"So I asked Him what he was preparing me for and the word 'ordination' popped into my head. It wasn't a total surprise, but it was the moment that led me to start exploring what ordination would mean."
Sam Cheesman, 32, of All Saints, Anchorsholme is looking forward to working in his first parish and said: "Wouldn't it be wonderful if everyone in the parishes across our Diocese could say that they know someone who has been changed by the transforming power of God?"
Munawar Din, 49, of Christ Church, Blackburn, has high hopes for the future saying: "As a Deacon, I hope to serve people in the church and in the community, wherever they are: to reach to the ones who are housebound and sick, to reach to the lost, to reach those at the margins of the society. I am looking forward to preaching the Good News of Jesus to the congregation and the community."
Speaking about the Diocesan Vision 2026: Healthy Churches Transforming Communities, Hannah Boyd, 36, of St Mark's Layton and St Luke's Staining, said: "I want the church to be a place where all are welcomed and accepted and where together people learn and discover what it means to follow Jesus."
While Stephen Large, 69, of St Cuthbert's Burnley with St Luke's Brierfield, added: "Our churches are big houses in neighbourhoods of houses and we need to get to know our neighbours and they need to get to know us. We cannot achieve this by merely conducting service behind four safe walls."
When not studying and working towards ordination the candidates from across Lancashire have hugely varied interests including playing the Indian harmonium; enjoying 'Ultimate Frisbee' and vegan cooking.
Surprising facts about them include that one used to be a hippy; another is a fan of 1920s and 30s art deco and another has a collection of more than 800 model tortoises!
At the weekend the Diocesan Bishop, Rt Rev. Julian Henderson, ordained the Deacons while the Bishop of Lancaster, Rt Rev Geoff Pearson, who is retiring in July, ordained the Priests.
More information on the candidates
They were joined at the services by Bishop of Burnley, Rt Rev. Philip North and The Dean of Blackburn, The Very Rev. Peter Howell-Jones (his first ordination service at Blackburn Cathedral since becoming Dean earlier this year).
Also attending were the Archdeacon of Blackburn, The Venerable Mark Ireland and the Archdeacon of Lancaster, The Venerable Michael Everitt, as well as representatives from parishes across Lancashire and family and friends of the ordination candidates.
Speaking after the service Bishop Julian said: "I am delighted to see the number of candidates locally has risen this year in common with the rest of The Church of England. The church has discerned this was God's calling for these men and women and it was a great privilege to be able to ordain them.
"We now look forward to seeing God's plan for their ministry being worked out at parish level to continue to make our Diocesan vision of 'Healthy Churches Transforming Communities' a reality."
Prior to their big weekend, all ordinands (Priests and Deacons) went on a retreat at Whalley Abbey. The retreat was led by Rev. Dr Rosalyn Murphy, of St Thomas in Blackpool.
She said: "The retreat was a chance for the ordinands to pray; share time together and think about their next step towards a new season of ministry."
And the Diocesan Director of Ordinands, Rev. Dr John Darch added: "Our experience in this diocese confirms the national upturn both in numbers of men and women offering to serve God in ordained ministry and also an increase in the number of younger candidates. We are both encouraged and excited by this welcome trend."
Ordinations have taken place across the country and the Church of England was tweeting throughout on its national feed (@c_of_e). Our local diocese Twitter feed (@cofelancs) was also active using #newrevs
Ronnie Semley
03/07/2017
---