3rd October 2017
Wanted - high-fiving vicar who doesn't like olives or celery!
Young people from a church in Preston, Lancashire, have made their own contribution towards getting a new vicar by producing a list of key requirements for the job!
As part of the recruitment process for a new incumbent, the children of Christ Church in Fulwood were asked to list what they wanted in their new top man or woman.
The children, pictured, were consulted as part of a church-wide initiative to help develop the 'parish profile' for the vacancy. It was the idea of PCC Chair and Christ Church 'Vision Champion' Christine Hedley.
The comprehensive list, also pictured, includes requirements to …
like food
like sport
like children
be modern and funky
be funny and loving
be kind and cool
have previous experience working with children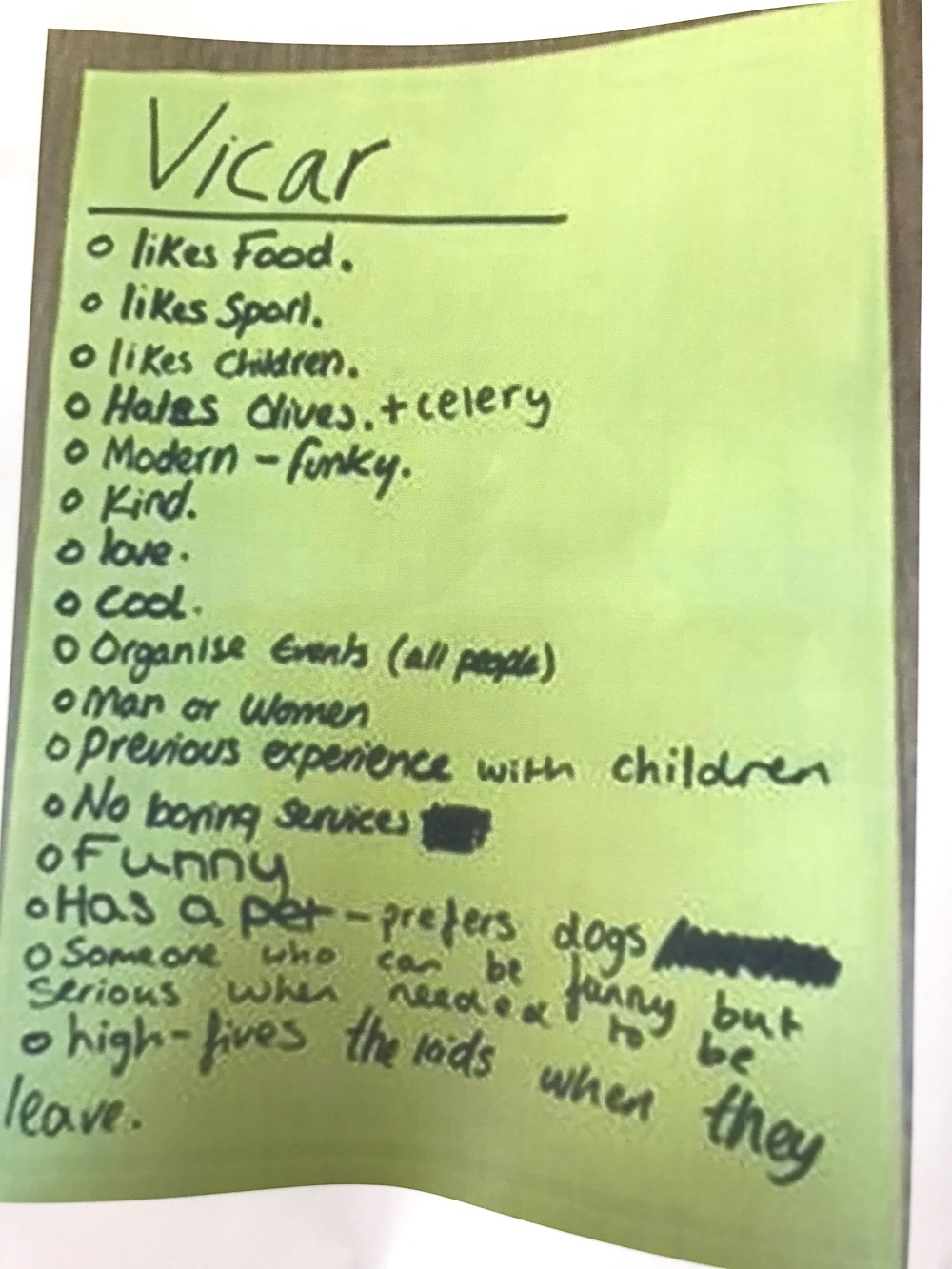 They must also 'high five' young members of the congregation when they leave Church … a practice which stems from current Curate Phil Maudsley's way of bidding young parishioners farewell!
The children of the parish are unconcerned about the gender of their new Vicar, a man or a woman is fine, but they specifically mention 'no boring services'!
The new Vicar should also like pets, preferably have a dog and her or his eating habits should exclude both olives and celery!
Christine Hedley said: "We agreed that our youngest church members and our Pathfinders group comprising older children should be consulted for their views on the attributes of our new Vicar.
"The list was brought together during a regular Sunday service by about a dozen of our young people, and is now a part of our Parish Profile for the vacancy."
Commenting on the innovative approach to compiling the parish profile, Archdeacon of Lancaster, The Venerable Michael Everitt, said: "I am delighted Christ Church has taken this inclusive approach to compiling their parish profile for their new vicar.
"The voice of the young is equally important as the voices of older members of our churches and involving them in this way is empowering for them and exciting for the Diocese to see as well. This is because work with young people is at the heart of our Diocesan Vision 2026.
"I will be praying for a successful recruitment process for Christ Church and look forward to meeting their new, funky, high-fiving vicar in due course!"
---