The new Bishop of Blackburn, Rt Rev Philip North, has hailed the sense of community and service that lay at the centre of the recent Coronation weekend celebrations in parishes across Lancashire.
He does so in two short new videos released on our YouTube channel today, one recorded with Rev Liz McLean at St Peter's Church in Salesbury in the Ribble Valley and the other with Rev Rebecca Roberts at St James' Church, Lower Darwen.
In the videos they all talk about both the importance of our churches in the community and the service to others offered by those who worship there in so many different ways.
Speaking in the St Peter's video, recorded during their fabulous Community Picnic complete with a tug-of-war and on a blustery day outside the church, Bishop Philip says: "As a nation and here in Lancashire we took part in an extraordinary weekend that has shown the enduring power of the monarchy to bring people together.
"The message behind that, also reflected in the Coronation Service itself, is one of service which has also been seen a huge range of activities in our parishes.
"What we have witnessed in churches around the County is people reaching out into their community to serve in practical and pastoral ways and to share the joy with their neighbours. That's a beautiful thing to see."
St Peter's was one of many churches in our Diocese that held community celebration events and/or Big Help Out initiatives across the three days, including the Bank Holiday Monday.
Rev Liz McLean adds: "It's been a really good weekend here; we've watched the Coronation together; had community worship on the Sunday looking at the servanthood of Jesus Christ and how King Charles is following in Christ's footsteps and a Community Picnic on the Bank Holiday.
"With his first words during the Coronation Service, King Charles pledged he had come in the likeness of Christ, not to be served but to serve and that's something we want to replicate at St Peter's."
Meanwhile, the video at St James' was recorded during a wonderful community event at the church attended by people from across the community, including dozens of local children.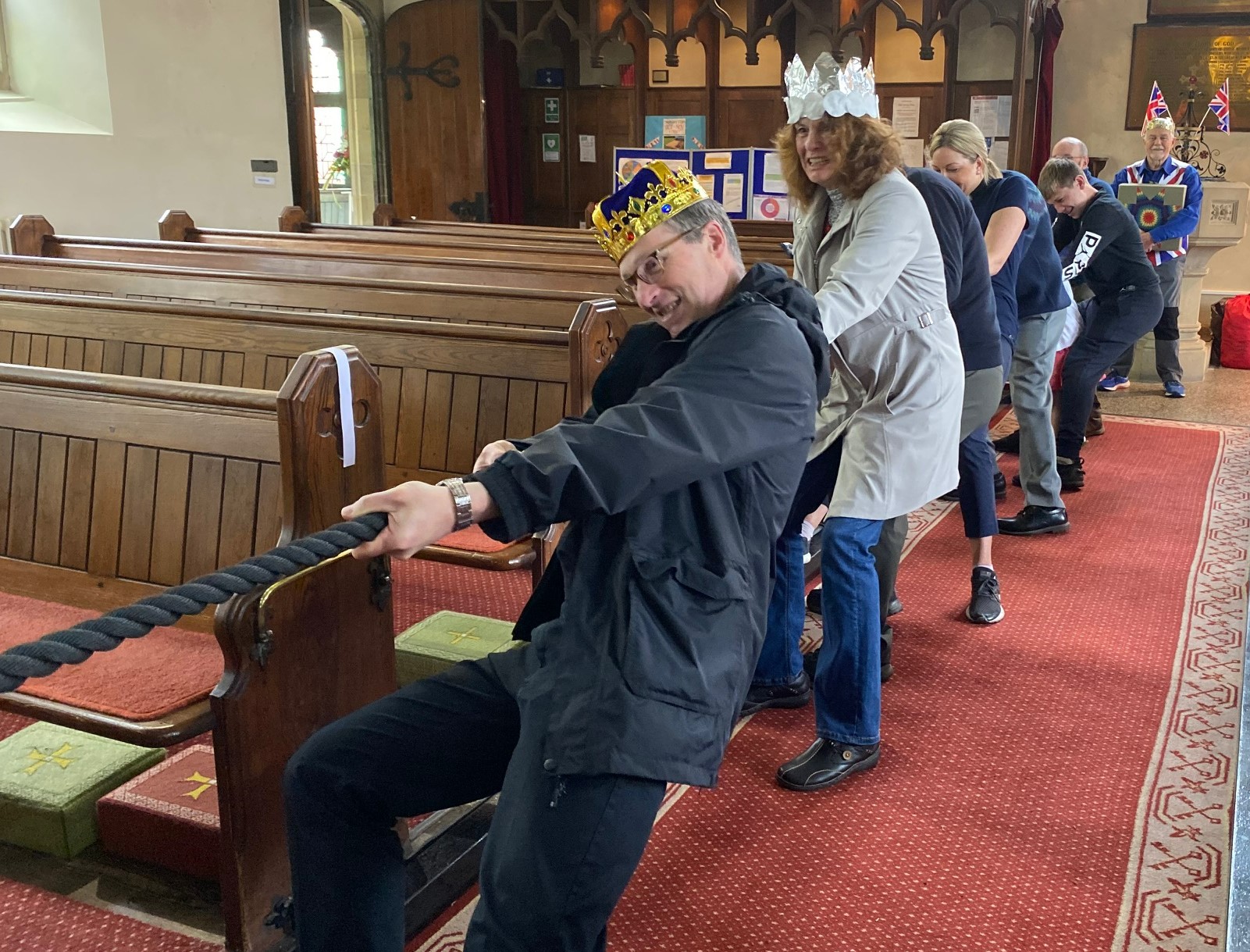 Rev Rebecca Roberts said: "Our posts on Facebook offering a place to come and enjoy some fun on a wet bank holiday got a great response and we have a church full of families!
"We have also been litter picking on Higher Croft where we have a 'pop-up' church that meets on a Sunday morning. Our volunteers filled around 20 bags with rubbish and we have worked with the local council to have them collected after we finished."
Bishop Philip added: "If I were King Charles what would make me really proud this weekend is all that's been going here in churches like St James'. The place is absolutely packed with children and families. It's a wonderful example of great volunteering but also of communities coming together to celebrate, with Jesus at the centre of it all.
---
Captions for above pictures, top to bottom:
Bishop Philip with Rev Liz McLean in the newly-released video filmed at St Peter's in Salesbury
Bishop Philip with Rev Rebecca Roberts in the newly-released video filmed at St James' in Lower Darwen
Bishop Philip takes part in a tug of war held in the centre aisle of St Peter's, Salesbury, during their Community Picnic!
Some of the litter picking party at St James' Lower Darwen who gathered around 20 bags of rubbish
---